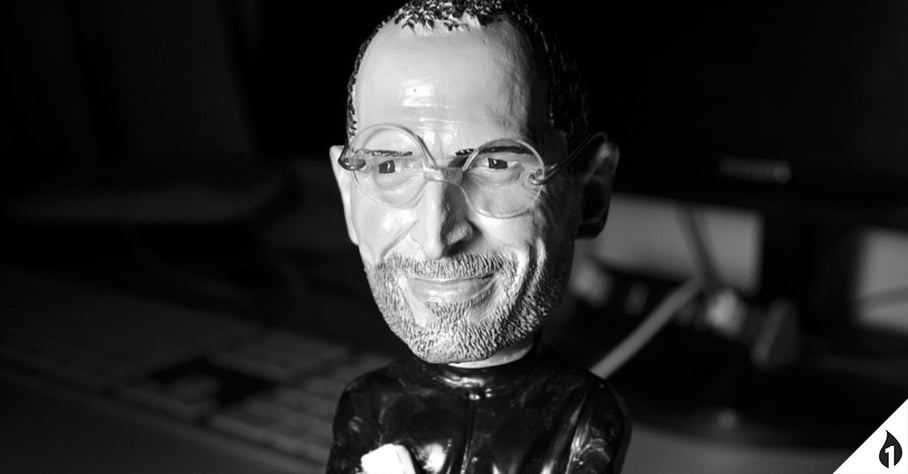 Is it Halloween already? It is. Welp, this is another year where you'll just have to be costume-less. How do people come up with costumes? Where do they find the time? Maybe they know something you don't. Maybe they read lists like this, lovingly compiled to help stressed out tech fans in search of a throw-together costume. Maybe they don't. But it couldn't hurt to keep reading and find out, right?
If you're a tech enthusiast and you're crunched for time in coming up with a costume (it overlaps often), here are 10 last-minute ideas so you don't have to show up to the party as 'I Forgot' again:
1. Steve Jobs
Apple's former head honcho is likely the most recognizable tech figure in the world. Even after his passing, Steve Jobs left an indelible legacy of everything Apple has come to represent. With two major motion pictures, his figure still looms large. What will you need? A black turtleneck and glasses. BOOM! You're him.
2. Tim Cook
Not many tech giants have a look as well-known as Jobs. So, many of these costumes are going to be accessory/prop reliant. If you want to go as current Apple CEO Tim Cook, for example, you'll need silver hair, glasses, and probably an iPad or iPhone in hand. Extra points if you go as 'Keynote Tim Cook' and pace around the party presenting your next-wave hardware.
3. Larry Page
Larry Page is the CEO of Alphabet (the parent company of Google). To dress up as Larry Page, you'll need a suit coat and thicker eyebrows. With one trip to Target or Wal-Mart, you should be able to transform into the co-founder of Google in no time flat. Have a Google shirt lying around? Step the costume up by sporting that swag.
4. Elon Musk
Elon Musk, of Tesla and SpaceX fame, is a headline-grabber and a harbinger of the future. Dressing up like Elon Musk might be tougher, as he has fewer obviously recognizable physical features. Try carrying a Hot Wheels car around with you and starting conversation about the future of vehicles. Then casually mention that you're Elon Musk. That should work.
5. Mark Zuckerberg
Zuckerberg! He has a last name that you just want to exclaim. Mark Zuckerberg is pretty easy to pick out of a crowd. Gray t-shirt. Black hoodie. Black hoodie over a gray t-shirt. If you have curly hair and are sort of pale, even better. The best part of Zuck's look is that it's super comfortable. While your buddies are sweating to death in Darth Vader costumes, you'll be chilling in business super-casual garb.
6. Steve Ballmer
Steve Ballmer was the boss at Microsoft for a long time. Now, he's a staple at the Staples Center as owner of the Los Angeles Clippers. In his second life as Clipper's owner, Ballmer has grabbed attention for being ... very enthusiastic. VERY enthusiastic. Like, maniac-waving-his-arms-around-and-shrieking enthusiastic. That's awesome! Dress up like Steve, maybe in Clippers colors, and be the life of the party!
7. Mark Cuban
Another techie-turned-NBA owner, Mark Cuban, is an outspoken and generally affable guy. Peak Cuban is full suit Cuban. But, if you're not into wearing a suit all night, try a baseball cap, victory cigar, and some Dallas Mavericks gear (if you can find some on short notice). For props, a basketball could do the trick.
8. Jeff Bezos
Amazon's leader slightly resembles a kindly Lex Luthor. You'll need pronounced eyebrows, a bald head, and business attire. Not too demanding. For added effect, carry around an Amazon package. C'mon, there's one hanging around somewhere. That will seal the deal for the costume and you can have interesting conversations about the future of retail.
9. Bill Gates
Bill Gates and Microsoft have been synonymous for years. With Windows being the first operating system most people were familiar with, the name 'Bill Gates' is tied to 'computers' in their minds forever. A good Bill Gates costume would include glasses, shaggier hair, and business attire. Major bonus points if you go as 1970s Bill Gates.
10. Evan Spiegel
Evan Spiegel is the new blood of tech. He and his app, Snapchat, have captured the hearts and minds of millennials. Spiegel is a casual dresser, so props would really sell the look. Maybe dog ears (like the filter)? Maybe your date can go as Miranda Kerr (his main squeeze)? Maybe a Stanford hat (his alma mater)? The choice is yours. The costume should be a snap!
Happy Halloween and feel free to send us pics of your best tech costumes!
Love Tech? You'll Love THis Free Augmented Reality Example: