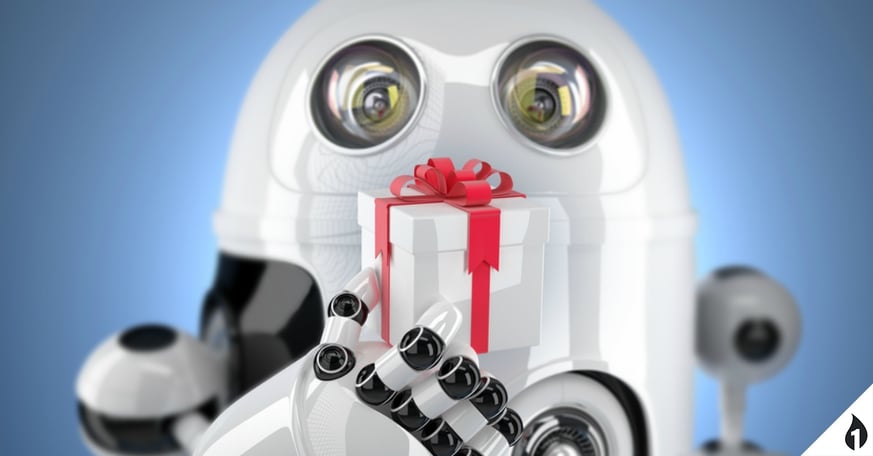 If you timed it right (and imbibed in too much eggnog), you might seen Santa and his sleigh streak across the clear December sky. If you blinked, you may have missed it. It's that fast. Technology is the same way. Technology is streaking across society at a blistering clip and things are changing right under our noses. Maybe you woke up yesterday morning to find an Amazon Echo, an Apple Watch, or DJI Phantom 4 Quadcopter. Just 5 years ago, these gifts would have baffled the room. Now, they make wish lists with regularity. Incredible technology appears commonplace. That's the effect the pace of technological advancement has.
So, what will happen in 2021? They'll sound far-fetched today, but here are 5 gifts you might see under your tree in 2021:
1. Souped-up Drones
Drones have advanced at an almost alarming rate. Already, drones shaped like the Batwing and Star Wars ships are available for purchase. Aside from branding novelties, height and distance abilities are insane. You can get giant drones, mini-drones, and everything in between. You can get drones that shoot HD video and pictures. The future is here and it's flying. In 2021? You can expect drones to have taken hold in the enterprise, making deliveries. If that's the case, expect your drone to be able to do that and more.
2. Next-Level Smartphones
Smartphones are just getting started. The iPhone 7 has dual-cameras for superior photography, better native apps, better intuition, and an improving Siri. By 2021, the smartphone under your tree will look foreign compared to the one in your hand right now. More powerful and better designed, future smartphones will be built with every lifestyle in mind. Stronger materials and a mind-blowing operating system is just around the corner. Prepare to be amazed. Your battery will still last about half a day though. Sorry about it.
3. Way Better Wearables
Snap's Spectacles are getting quite a bit of publicity. If you thought smart glasses were caput after the Google Glass flop, you were mistaken. In 2021, it stands to reason that the kinks will be worked out and everyone will be sporting and gifting wearables. The second coming of the Apple Watch will be on wrists soon. Spectacles are creating a spectacle. Fitness bands of all types are a hot item. In 2021, wearables will be even more popular and they'll be way better. Expect better designs, better functionality, and better data.
4. A Mobile A.I. Assistant (a.k.a. a Robot Butler)
Both the Amazon Echo and Google Home have helped open up the floodgates. Artificial Intelligence for the home is here and it is going to become incredible with time. By 2021, machine learning will be improved. 2021 Alexa might be able to do everything - from playing your favorite song to bringing you a cup of coffee. 2021 Alexa might even be able to run an errand or two. By 2021, your very own robot butler is within reach. Guess who's standing in line at the DMV in the future? NOT Y... actually it will still be you. Bad example.
5. Round-Trip Tickets ... to Mars
Elon Musk is bold and daring. Even if colonization isn't in your future plans, a round-trip voyage to the Red Planet could be on the table! By 2021, you may shoot down suggestions to visit Barbados, London, or Tokyo, opting instead for a quick interplanetary jaunt. Space travel is a subject that SpaceX and many others are working on right this second. In 2021, who knows where we'll be. We could be several more years away OR you could be packing your bags for a leisurely mission to Mars. Sounds impossible, but you never know.
What do you think? Did you get any tech gifts this year? What do you think you'll receive in 2021? Let us know in the comments.
Listen to Why OneFire is Developing Augmented Reality Software: