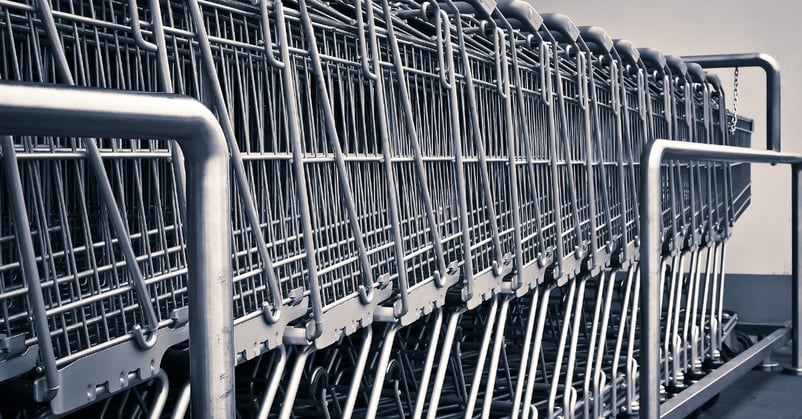 It's well documented that Augmented Reality will help businesses find greater success. But, sometimes, the best way to improve business is to improve the customer experience. When customers are happy with your product or service, they'll want to do business again and again. That's all the incentive needed to look into how AR can make consumer's lives easier. Think about what it's like to be a consumer. The below AR examples will make your life easier, too. It's something to keep in mind when aiming for customer satisfaction.
Here are 9 Augmented Reality examples that improved the consumer experience:
1. Try clothes on from home before you buy them
For many kids, trying on clothes in dressing rooms at the store is a good enough reason to just not wear clothes at all. For adults, it's not much better. They're cramped and too hot, forcing a rushed decision to buy (and an inevitable return to the store to return the item). With AR, you can "try on" clothes at home and see what they look like before ordering online. That includes items like sunglasses and even wedding dresses.
2. See the shiny new car in the garage
Augmented Reality makes it easier for consumers to visualize items they're considering buying. Picture this: you're interested in a new car, but you can't get a clear picture of what it's like from photos and videos online. You'd rather see it in person. But, if you go to the showroom, you're going to have to deal with aggressive salespeople. The solution? Check out the car in your own garage with AR. That way, you'll exactly what you want when it's time to buy.
3. Interior decorating made easier
Interior decorating is a career for a reason. Putting together a room or a home full of rooms is challenging. Furniture has to fit, accents need to match the furniture, and the whole thing needs to be tied together thematically. That makes furniture shopping a dangerous game. What if the couch doesn't fit? What if the end table looks weird next to the couch? AR fixes that issue for consumers. "Place" items in your home and see what they look like before you bring them home.
4. Help with home or car repair
Wearing an AR headset, you can receive step-by-step instruction on how to make simple home and car repairs. Instead of calling on a mechanic to change a battery, for example, you can change it yourself with confidence. AR allows for information to be laid directly over the physical world, giving you rich instruction on procedural tasks. Empowering consumers to make minor repairs on their own is a move that's sure to engender loyalty.
5. Improved vehicle dashboards
As smart glasses and other AR hardware continues to improve, it will be able to make driving safer by enhancing vehicle dashboards. Instead of the driver having to turn away to see information on speed, traffic patterns, safety alerts, and more, they can look straight ahead and see all the info they need. That makes driving safer and a presents an enormous opportunity for car companies to capitalize.
6. Instant information in retail stories
Instead of having to pick up each grocery item and inspect its nutritional label, the expiration date, and the price, AR can streamline that process by laying that information over the items as you walk by. Augmented Reality allows for more information to be relayed, more efficiently. That can apply to product in any retail environment.
7. Try on makeup without the need for remover
'Try it before you buy it' works well for sampling ice cream. It works less well for products like makeup. Sure, you can go to the beauty counter and try on makeup, but it's time consuming and requires removal. It calls for a trip to the store and a long interaction with a sales associate. AR can take experiences like that and drastically improve upon them. Instead of going into the store, you can "try on" makeup at home with no mess, no pressure, and no trip.
8. Better wayfinding in large facilities
Corporate campuses, hospitals, malls, airports, and arenas all have this in common: they're difficult to navigate. That can make for a stressful consumer experience. If you've ever been lost in a bigger facility, you know how frustrating it can be. AR can solve that issue. Equipping a larger facility with AR triggers can allow for people wearing a headset, or even using their phones, to get more info and better wayfinding instruction as they navigate the building.
9. Fun diversions, where they're needed most
Speaking of hospitals, the waiting room experience leaves a lot to be desired. It's boring and depending on why you're there, it can be a somber experience. AR triggers on the wall can give kids and adults alike an interactive diversion. Maybe it's 3D models of animals. Maybe it's 3D models of airplanes with sound effects. Whatever it is, AR can provide fun when consumers really need it.
Augmented Reality is already improving the consumer experience. With advances in the technology, AR stands to make customer's lives easier and drive business at the same time. Ready to use AR to its full potential? Think of the customer.
Download our eBook on Organizational Innovation: