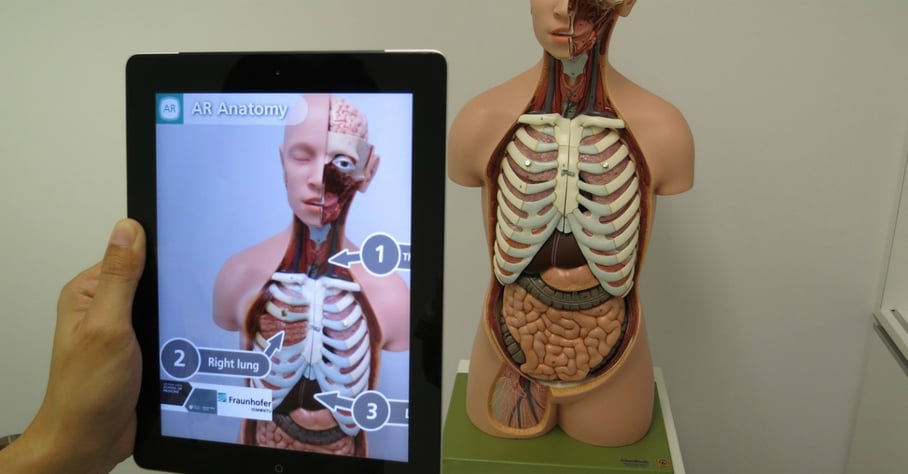 Augmented Reality is as valuable to the enterprise as its use cases. While AR is stunning, compelling technology on its own, the enterprise needs to be able to justify its cost and see clearly how it will solve real business challenges. Fortunately, there is no shortage of augmented reality ideas for the enterprise to capitalize on. Exploratory AR proofs of concept are being developed across several industries, bringing training costs down, creating more efficient operations, and helping to supercharge marketing capabilities. While many use cases are in the infancy of development, many are already making an impact and changing how the enterprise does business. No matter the stage, AR is proving its worth in the enterprise and inspiring business leaders with its unmatched potential.
Below are a just a few augmented reality ideas that the enterprise should take notice of:
FOR YOU: Download a free Augmented Reality example now
1. IKEA Uses AR to Place Furniture Virtually
Swedish furniture retailer IKEA created an AR app that allows customers to "place" furniture in their homes before they buy it. That allows people to see how furniture would fit and look in a space before committing to it. In the enterprise, this technology can be applied to heavy machinery parts and attachments, warehouse equipment, and more. Instead of spending time and money on trial and error, the enterprise can get it right the first time with AR.
2. BMW Uses AR to Bring Their Cars Out of the Showroom
BMW has developed an app on the Google Tango device that allows potential customers to check out their vehicles anywhere. Instead of wondering what a certain color or configuration would look like, customers can use the Tango device to plant the car in their own driveway - virtually. A full-size virtual representation of the vehicle, users can walk around it and even look inside. For manufacturers, configuring and buying the right equipment just got easier.
3. AR Gives Everyone the Power to Make Repairs
Multiple vehicle companies and heavy machinery manufacturers are starting to take advantage of the training capabilities of AR. In the consumer space, the enterprise is realizing that many simple repairs can be done by anyone equipped with the right information. AR can guide users through repair procedures, offering step by step instruction and helpful visuals. In the same way, the enterprise can transform training - arming trainees with AR.
4. DHL Leans on AR to Improve Supply Chain Efficiency
Augmented Reality helps those working in DHL warehouses choose the most efficient routes for loading, scan package bar codes, and even locate the right items on the shelf. AR wearables can make supply chain management faster and therefore, more cost effective. For any enterprise that deals in inventory, this technology can help overcome the typical logistical challenges that warehouses represent.
5. AR Allows For Repetitive Training Scenarios
AR offers the enterprise unlimited potential in the training space. One unique advantage: training scenarios (like taking apart and repairing a car engine) can be repeated as many times as necessary. With virtual representations of complex procedures, trainees can practice as often as they need to. Multiple trainees can work on perfecting the same procedure at the same time. AR can solve the problem of 'limited resources' for training.
Augmented Reality continues to prove its worth in the world of Big Business. Like every new piece of technology, early adopters work out the kinks and optimize the capabilities before others follow suit. In the coming years, it won't be surprising if augmented reality finds a place in every major company. With just at a glance at the augmented reality ideas and use cases above, it quickly becomes clear that few things hold the enterprise back from harnessing the massive potential of AR for gain. For the enterprise staring down stiff challenges, augmented reality could be the answer hiding in plain sight.
Learn Why a Proof of Concept Is
Important Before Scaling: