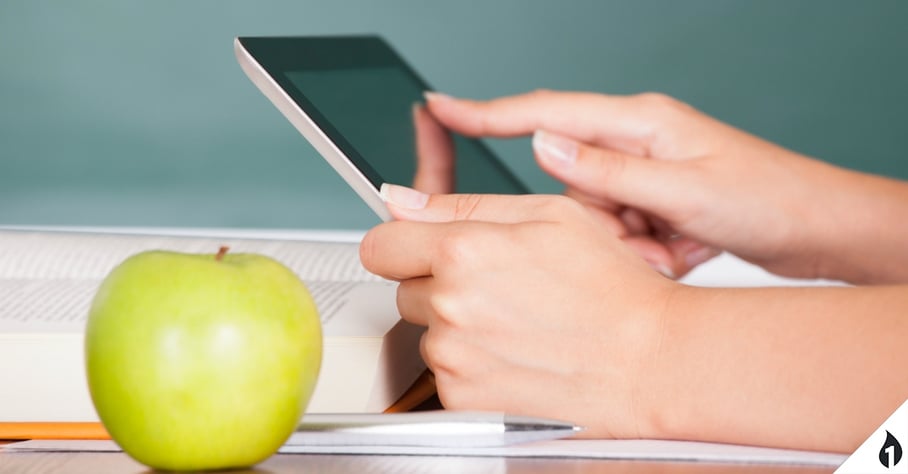 Augmented reality
(AR) is proving to be a phenomenal tool for teaching and training, for any age and skill level.
In a classroom setting, AR is the difference between learning about something and experiencing it firsthand. Educators are slowly adopting apps and programs that allow them to bring that experience to their students while keeping them totally engaged in the lesson.
Augmented Reality in the Classroom
AR combines the real world with technology to create a layer of digital over the physical. For example, a lot of AR content is accessed by scanning a "trigger image" with a phone or tablet to pull up a video, image, game or display.
For teachers and students, this can translate into many areas of the classroom. This is such a powerful opportunity because of the true engagement opportunities it provides. Students learn at an even deeper level when they are allowed to transform content they're learning into creations, sharing and interactions. Instead of reading about elements, students can watch them interact before their eyes. They can watch history come alive, explore the cosmos or identify fish in a river. Whatever it is, Augmented Reality in education can change a lesson from teaching and learning to experiencing.
Augmented Reality Tools for Teaching
There are so many ways to use Augmented Reality in education effectively, and the list of examples is endless. But here are just 10 interesting options teachers are loving. Download them now, or use them as inspiration for your own educational AR tools:
Quiver
- Quiver allows kids to color the provided pages and then watch their creations come to life.
AR Flashcards
- AR Flashcards combines augmented reality with flashcards to help visual learners really grasp what each card represents. They currently offer flashcards for an animal alphabet, addition, space, and shapes and colors. They also won Edublog's 2013
"Best Mobile App"
award for educational tools.
Aurasma Studio
- The Aurasma Studio and App enables you to design your own AR experiences and use them in the classroom. It can be used to help label diagrams, get parents involved, create word walls and more. You can see a demo
here
.
Popar Toys
- This is a catalog of AR posters, puzzles and books for kids. The interactive books span topics including dinosaurs, insects, human anatomy, periodic tables, world maps and the solar system.
Two Guys and Some iPads
- These teachers, speakers and AR experts share ideas about how to use AR in the classroom, plus practical examples you can use right away.
MITAR Games
- MITAR Games was developed by the Education Arcade and MIT's Teacher Education Program. It blends actual locations with people and scenarios to deliver factual educational experiences. One of these offerings is its
iCSI design project, which engages tweens in mobile games to explore and interact with collections at zoos and botanical gardens.
Physics Playground
- This project create the perfect environment for students to explore and engage with a safe space for physics experiments.
Occupational Safety Scaffolding
- This program, developed by
Professor Ron Dotson, guides construction safety students through establishing safe scaffolding space in an AR demonstration. This is just one of the simple ways AR can be a valuable tool for on-the-job training.
Fetch Lunch Rush!
- PBS' first augmented reality educational app helps kids solve math problems with Ruff the dog, who has to feed sushi to a movie crew.
Chromville
-
Chromville is visual app that promotes storytelling and offers educational, science-based coloring diagrams for topics like the human body and parts of a plant.
Ready to experience AR for yourself?