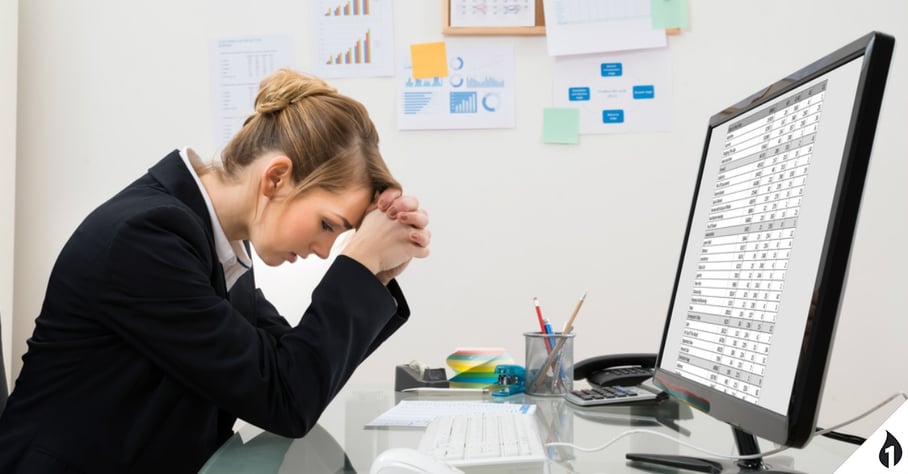 Spreadsheets got you down?
Traditionally, when building a product configurator or selection tool, programs like Excel were the only option. The problem is that staring at spreadsheets can knock the wind out of your sails in a hurry. Between complicated math and a bone-dry presentation of data, choosing a product is a chore. By the time a potential customer reaches the point of sale, they're more likely to be burned out than ready to make the purchase.
SEE ALSO: How to increase your marketing return on investment
For potential customers, finding the right product and right configuration for the job is vital. Take manufacturing, for example: each job has specific demands that require specific machinery to meet them. How specific? It can get as granular as the consistency of the earth being moved. Few people can calculate or take into account all of the aspects of a job that complicated. That's why calculation tools are important - to guide the selection process and make sure that the customer is ordering the correct equipment for the job. Even so, spreadsheets are still the height of tedium. The hassle of using a spreadsheet to make the right selection can stop a potential sale in its tracks or spur the customer to look elsewhere.
To increase the likelihood of a sale, you want to make that process as clean and easy as possible. How can you present potential customers with exactly the right choice for them, in a way they'll actually enjoy? Build an online product configurator or calculation tool.
All of the math and data is rolled up and operating behind the scenes. Your potential customers are presented with an interactive online selection experience. Instead of spreadsheets, you can present brilliant CGI imagery of your products and a simple selection process. Using their finger or a mouse, users select their specifications and the tool refers them to the products that will meet their precise needs. Not only is it visually appealing, it also delivers the necessary information in a simple and direct way. After toiling away with spreadsheets for so long, your customers will be amazed at how dramatically the selection process can be improved. You can save their time and yours with a streamlined experience that can be applied to any configuration, calculation, or selection process.
An online product configurator or calculation tool has incredible reuse potential, on top of its undeniable superior customer experience. This is a tool that your company can use repeatedly, building goodwill with your customer base by making their lives easier. Solving that pain point is sure to result in repeat business and referrals. Your customers - current and potential - are of chief importance. Building an online product configurator puts the focus on them and ultimately, makes it easier and more enjoyable for them to buy from you.
Don't let spreadsheets douse customer enthusiasm. Deliver a gorgeous digital experience that they'll want to use instead.
Could your digital marketing be improved? Use our free online assessment to find out: