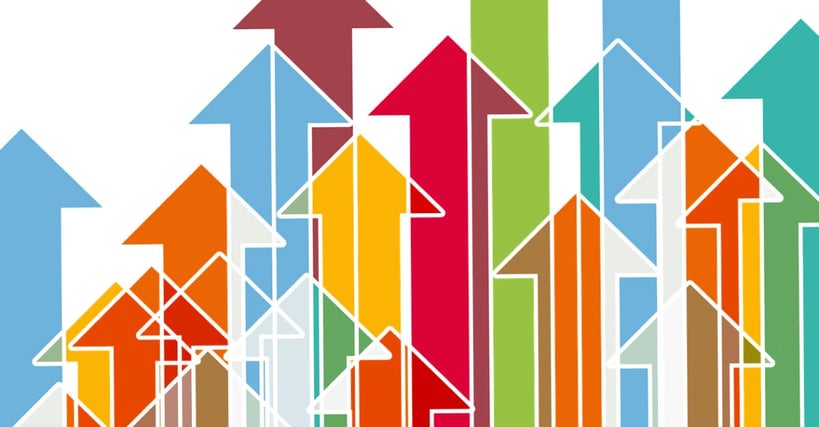 Technology has changed how companies grow. In this digital era, change has accelerated to a point where the enterprise needs to rapidly rethink its strategy. Market positions that used to feel safe are suddenly imperiled. In fact, a study from Washington University suggests that 40% of the Fortune 500 will no longer exist a decade from now. What could cause mass extinction to some of the biggest names in business? Simple: innovation runs counter to prevailing enterprise culture. The enterprise, by and large, is resistant to change.
Digital has changed things. Instead of steady growth over decades, startup companies are disrupting Big Business mainstays almost overnight. Netflix versus Blockbuster. Uber versus taxis. Amazon versus brick-and-mortar stores. Those are the go-to examples, but it's happening all over. As Leslie Paulson explained in a recent Coffee Talk presentation, businesses have operated for decades under the premise that growth is both local and linear. Today's reality upends that premise. Now, growth is global. Growth is exponential. Constraints that used to exist (like your potential customers being limited to a geographic area), no longer do.
The enterprise is left to confront and react to this new exponential curve that technology has made possible. Growth strategies built on a foundation of local and linear thinking are no longer viable. The companies that recognize and embrace the new rules will gain an instant competitive advantage. Innovation isn't a buzzword and it's no longer optional for the enterprise. Innovation is a matter of survival. The enterprise who has held its place year after year needs to know that there's a startup lurking in the shadows (or, sitting in plain view) coming to eat its lunch.
What can the enterprise do? It's time for big business to team with the agile startup. The answers are likely outside of enterprise walls. The same holds true for the hardware, software, and specialized talent that will drive a company-transforming innovation project. Technology isn't easy. The enterprise needs help. After the enterprise finds help, it's time to start zeroing in on the ideas that will keep it competitive well into the future. There are great ideas that have gone unnoticed or have fallen on deaf ears. It's time to dig those innovative ideas up and champion them. Put them front and center.
As the enterprise works with the startup to unearth the ideas that will transform it for the better, it can start building something amazing. Innovation won't happen until everybody is on board, from the top leadership on down. The startup can help the enterprise shift its culture and get that buy-in. The enterprise needs to change and it needs to change soon. Will it answer the call?
Have an Idea That Will Lead to Exponential Growth? Start with a Proof of Concept: