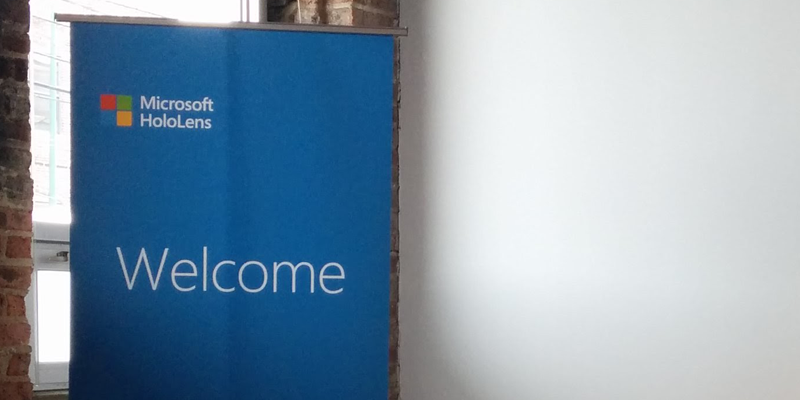 When the Giants played the Eagles on Monday Night Football, there were a few thousand extra viewers on the edge of their seats – not necessarily football fans.
During halftime, the trailer for Star Wars: The Force Awakens debuted.
What makes a movie preview so exciting? It's the first real look at the product behind the hype.
Microsoft HoloLens won't be released until early next year, but OneFire was fortunate enough to be invited to a small private demo of this augmented reality headset in Chicago. This was our chance to experience a product that has driven months of hype and speculation.
The demo began with a quick tutorial of how to wear and operate the AR headset. The HoloLens has three methods of selection: Gaze, Gesture, and Voice.
After hearing an overview, my pupillary distance was measured – to ensure the best experience. Taking individual measurements allows HoloLens to adapt to each user.
The headset looks futuristic, but not gaudy. It's reassuringly comfortable and lightweight – fit for longer use.
After measurements and fitting, it was time to dive in and play a game. Microsoft chose 'Project X-Rays' to try on our demo group. First, the game mapped out the room for gameplay. It also mapped out a human standing in front of me. Altogether, this took about a minute.
Once mapping was over, the game started frenetically: cracks and holes appeared on the walls and robots flew out, spraying space bullets my way. To fight back, I had to use an action gesture 'finger-tap' to fire my weapon, which was attached to my arm.
While shooting, I also had to simultaneously dodge and duck oncoming bullets. Don't worry. The robots lost.
It was fast-paced, active, and a perfect example of how this new technology can be applied to gaming.
Recreation aside, I know HoloLens is going to have incredible influence in product design. The potential for enterprise application is limitless. Imagine designing a product on a computer and being able to see the product right in front of you. That would cut cost dramatically and create an instantly more efficient process for product design.
This demo was a precursor to what's in store for 2016 – innovative integration of AR across the enterprise.
Learn more about Augmented Reality and the Microsoft HoloLens Now!
Grab our special episode of "Inside Business Tech" with an exclusive
interview with OneFire's Director of Innovation, Harsh Shah.