Within society, the ubiquitousness of mobile devices is polarizing. For some, constant connectedness is a utopia. It's made day-to-day tasks accessible and convenient in ways few people could have even predicted.
On the other hand, there are those who rue the advancement as the decay of face-to-face interaction. It hurts conversational ability. It distracts from the moment. We're allegedly injuring our necks from staring down all day. It's a hot debate and one that's unlikely to settle down with the advent of wearable tech on the horizon.
But for business – there's no argument to be had – implementing a mobile strategy is a must.
According to Google's 2013 study, "67% of smartphone owners access the Internet every day and most never leave home without it." For the business owner, the benefit is clear – develop the right mobile strategy and cultivate the right mobile presence and you're truly connected to the consumer around the clock. You don't have to knock on a front door, make a cold call, or hope they walk into your storefront. You have the ability to meet the consumer exactly where they are each day.
When taking things from the desktop to mobile, it's important to understand how to implement what your business offers into an experience the consumer will return to again and again. One of the first things you can do is list a phone number and make sure consumers can find you. Google found that appearing on smartphones was pivotal for local businesses, stating: "94% of smartphone users look for local information on their phone and 84% take action as a result, such as making a purchase or contacting the business." Whether you're planning on a mobile optimized site or a native app, make sure that your consumer can find you.
As a result of most people gluing their faces to screens for part of every day, it's changed our behavior dramatically. Sure, it's had the aforementioned effect socially, but we care about how it affects the consumer. Online shopping in general is a somewhat recent phenomenon. Now, most people gear up for 'Cyber Monday' just as they do for Black Friday. Need concert tickets? There's no more lines wrapped around the block near the box office. Instead, you open four or five browser windows (or multiple devices) and furiously smash keys until you get the seats you're after. Similarly, consumers have moved to making purchases directly from their smartphones. "77% of users have researched a product or service on their device, and 46% of smartphone users have made a purchase on their phone," according to Google.
What does the future hold? From Entrepreneur's Brett Relander: "Google has predicted that mobile searches (85.9 billion) will overtake desktop-based searches (84 billion) in 2015. Search ad spending for Google mobile search grew 120.8% in 2013; desktop search ads registered a growth of just 2.3%. There will be 2 billion smartphone users globally by 2015. At present, more than 57% of America's population owns a smartphone."
Like Michael Smith and Jemelle Hill used to say: numbers never lie. Implementing a mobile strategy into the enterprise is a necessity and there are a lot of ways to get there.
Our Inside Business Tech weekly Podcast talks more about this topic.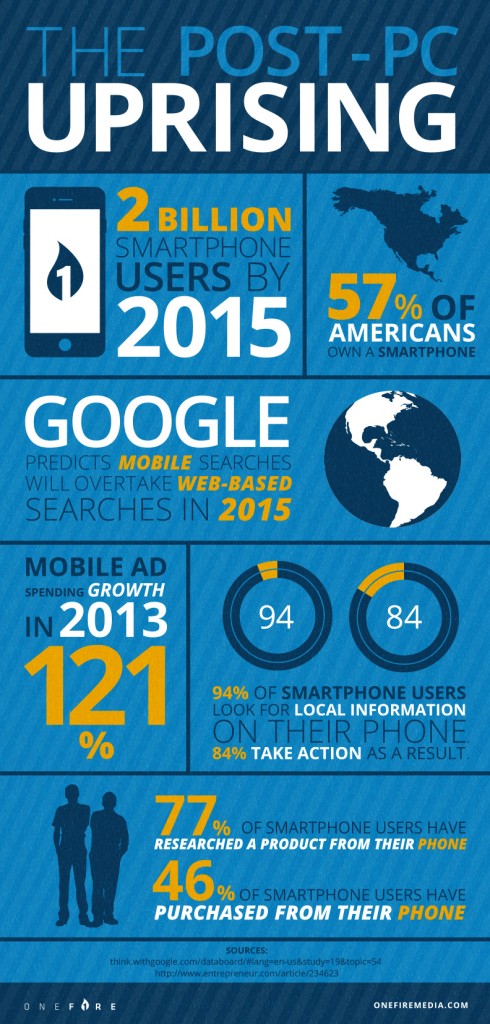 Thinking about an app? Let us help you decide which kind is right for your business: