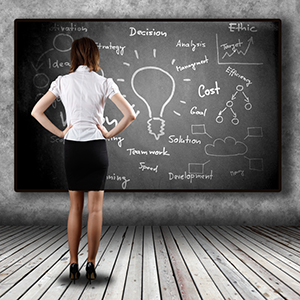 Even a cursory look at Yahoo! Answers makes it clear that people don't like asking questions if they think they'll look ignorant.
This is especially true when it comes to creating or improving a digital strategy in business, or even the Internet in general.
Whether you're a flower shop in a roadside town or a you find yourself in the pages of Fortune, it's hard to admit "I need help understanding why social media is important" or "I need to know more about effective e-mail campaigns." Finding and embracing the right digital strategy is mandatory if your business is going to thrive. But, before you can embrace a strategy, you have to know the basics of what should be included and why.
Below are 6 starting points that can lay the groundwork for a transformational digital strategy. For some, it may be a review. For others, it may save you a late night trip to Yahoo! Answers:
1. Website
When I wrote 'starting points' I meant starting points. The first step in digital is finding a home on the Internet. You need a website. Incredibly, recent research found that 45 percent of small business owners don't have a website.
This quote from Greg Sterling sums up why that might be: "They [business owners] know what they should be doing but daily inertia holds them back. In addition they probably don't know precisely where to turn to get their digital marketing needs met."
As it turns out, there are a lot of reasons small business owners don't care for a website. And to be fair, there are a handful of things to consider when you build a site.
There's its function: will your customers be able to purchase something on your site? Will it be strictly informational? Will you sell advertising space to recoup some of the operating costs?
Then you should take time to examine your branding: what are your core colors? Logo integration? Typography? A great site is going to seamlessly represent your brand in the same way your storefront does.
After that, you have to account for the user interface and experience (UI/UX). Is your site easy to use? Is it enjoyable? Does it look good? Is it easily navigable?
Finally, you'll want to ensure customers can find you. This can include picking the right URL and leveraging SEO to get the most favorable search results.
Sounds daunting. But it can be done.
If done well, your website can serve as a secondary storefront or, even, a primary business location. More and more, customers are going to discover you online and decide whether or not they want to do business based on your site.
2. Social Media
Social media is more than just where the kids post their 'selfies.' As of this year, 40 million small businesses have Facebook pages. It is so pervasive, that people make money talking about how they made money and how you can make money on Facebook.
Due to constant algorithm changes and some valid drawbacks, Facebook isn't necessarily a surefire bet to be your one source of social media interaction. Instead, look at the larger concept: your customers use social media. That's inarguable.
So, look at Facebook, Twitter, Google+, LinkedIn, Vine, YouTube, and any other platform as additional tools in your arsenal.
The wider net you cast, the wider audience you'll pull in and the better chance you have of converting part of that audience into sales. Social media can provide humongous traffic/referrals to your site, business-to-business interaction, and relevancy.
It sounds harsh, but a large social media following is a badge of honor in business today. It's possible that you may be seen as less relevant if you haven't started interacting with your willful potential customers.
But if you do interact and do it consistently – you can shape your brand for the better. Taco Bell's Twitter, for example, is on fire. It keeps the brand in everybody's mind and it builds tons of goodwill.
3. Audience Research
Maybe the most understandable advantage to embracing digital is the audience research. Using a tool like Google Analytics, you can know – for a fact – who visited your site, who clicked on which elements, how long they stayed, where they're from, and on and on. It is invaluable insight. Unlike traditional methods of measuring advertising success or platform reach (Arbitron, Nielsen, newspaper circulation), there's no extrapolation or guesswork in analytics.
What this means is, the trends you uncover and the targeting you can utilize is based on hard numbers. You can trust what you see and that's an enormous advantage.
Not well-versed in drawing conclusions from metrics? There are experts out there who can help and provide you with the clearest possible picture of what your potential customers are doing and how you should reach out to them. Embrace data. It leads to smarter marketing based on better information.
4. Content
Meta-alert. Content is not the first step in building a digital strategy, but it should absolutely be on your 'To Do' list, underlined three times in bold, red marker. Creating original content gives you the opportunity to tell your story. In more words than advertising or social media will allow, you can talk directly to your customers, other businesses, and the industry at large.
A few things to consider with content: it should engage. You want to bring people in by providing information, helping them share in an experience, or entertaining them.
It should build authority. Show your potential customers what you know (without giving everything away) and make it impossible for them not to want to know what you're holding back.
It should contribute to your industry. Create content that furthers the cause. Share relevant statistics. Join the broader discussion.
Content is a fantastic way to raise awareness and become memorable in the minds of your potential clients.
5) E-mail Campaigns/SMS Texting Campaigns
Now that you have a website, you're on social media, you know your audience better, and you've published your first blog, it's time to talk about how to reach out further to your clients.
That is where e-mail/newsletter and SMS texting campaigns can come in. Building a list of e-mails or phone numbers can be a process. But, it's one worth investing time in.
Once you have these lists, you can craft marketing messages tailored specifically to an audience you know is engaged and active. It's a direct way to reach those who have explicitly opted in to interact with you. That's a powerful place to be.
You can also use either/or as a means of getting urgent information out to a specific group. For example: a concert cancelation due to severe weather. With an SMS texting list, you can instantly inform all ticket holders and save yourself a tremendous headache.
A few tips on e-mail and text message marketing:
Make sure, if you're using e-mail or texting for marketing, that you're providing value to your database. Don't allow your ability to directly reach someone become an excuse to flood them with advertisements or offers (spam, essentially). Have a plan for what you'll use the lists for before you create them.
6) Mobile
Perhaps including 'mobile' in an article about basics is jumping the gun. But it's probably not.
Having a fully-optimized mobile site or an app or both is rapidly becoming as ubiquitous as owning a smartphone or a laptop. It's where things are heading, sure, but it's also where they are right now. Look at Uber as a chief example. It took and ran with an untapped idea (app-based ride sharing), and now has the entire taxi and limousine industry on its heels.
The message is clear. You have to go mobile so you can beat your competitors to new ideas.
There's a wealth of information on how to go about it, but its inclusion on this list is purposeful: mobile is now a starting point.
If you're considering an app as a building block of your digital strategy, download our infographic and find out which kind is right for you: