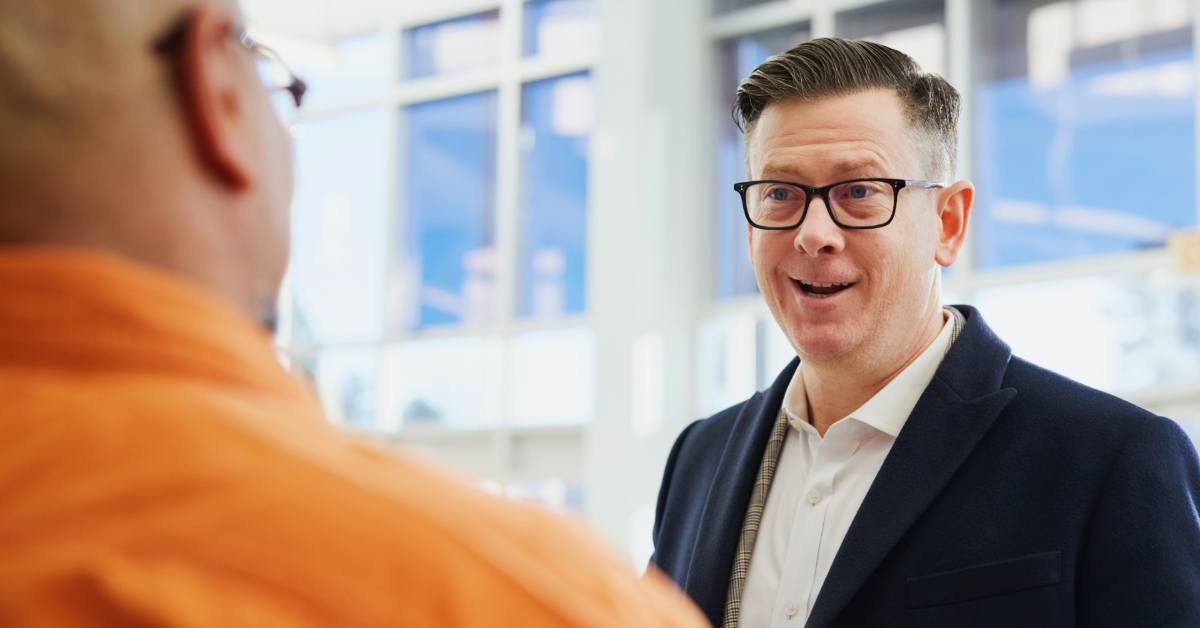 Account-based marketing, or ABM, is a concept that focuses on a desired account first, and builds a marketing strategy specifically for them. This approach helps you efficiently reach your ideal clients, make the sale, and continue to delight your customers for your entire working relationship.
Here's a closer look at ABM:
Account-Based Marketing for MSPs
One of the tasks that an MSP marketing strategy has to achieve is educating why its services are important. The problem is that those services can look very different from client to client, and your ideal clients might not even think they need your help.
That's where ABM comes in.
From the very beginning, you can show potential clients exactly how your services can benefit their company.
ABM and Inbound Marketing
But wait, what about all that inbound marketing you've been doing? Those value-packed blog posts, ebooks, social media posts and videos are part of an inbound marketing strategy, and they're intended to attract potential clients to your business. Inbound marketing is a different approach from ABM, but the two can (and do) work hand-in-hand.
The content you create for inbound marketing lays the foundation for a strong ABM strategy. It improves your search engine optimization, positions you as an expert in your field, and continues to draw clients to you. It also helps you to hone your skills as a marketer, and find what works for your business.
Your ABM content can work as inbound marketing content, too. If it's super-customized to a specific client, you can adapt it for a more general audience in a blog post, video or newsletter. Look for ways to maximize your marketing and repurpose your content; it will save you time and improve your marketing ROI.
Why should you use ABM?
We've talked about how account based marketing can work alongside your current marketing materials - but is it really worth the effort? Why should you adopt an ABM strategy?
Here are three reasons you should consider it for your MSP:
Maximize marketing and sales
Your marketing and sales departments might be great on their own, but together, they're a powerful team. ABM combines your sales and marketing strategies, and develops a plan to identify your ideal client, convert them to a client, and continue the relationship long-term. ABM uses a strong sales and marketing collaboration to create a better overall customer experience.
Focus on ideal clients
With ABM, you're focusing on your actual ideal clients - not the idea of them. These are the kinds of clients who could potentially catapult your business to the next level, so they're worth the time and investment. This also helps you get super clear in your marketing, because you know exactly who your message is for.
Expedite the sales cycle
Shifting your focus to a smaller pool of clients helps you identify any potential hangups in the sales cycle. Then, when you combine the skills of your sales and marketing teams, you can create solutions for those problems - and implement them - much quicker.
Watch as Jason Parkinson breaks down ABM for MSPs:
Implementing Your ABM Strategy
If you think an ABM strategy will work for your MSP, here are some steps you can take to get started:
Get your team on board
ABM is a collaborative strategy, especially between your sales and marketing teams. That's a big part of why it can be such an effective marketing option. So in order for it to work, your teams have to be on board. Once everyone is on the same page with what ABM will entail and how it'll work, you can hit the ground running.
Choose your target clients
If you've ever created an ideal client avatar before, you know that getting specific is key. What traits do they have? What are their pain points? And why do you want to work with them? These are general ideas that represent a typical client you would consider "ideal."
But with ABM, this becomes a lot easier because you won't need to do much guessing. You know exactly who the company is, and you may have a much better idea of what they need and how your services can help them.
Build the relationship
As your sales team works to build relationships with decision-makers at your target client, your marketing team can build out custom ads, emails or content that speaks directly to the intel sales has gathered. This messaging will specifically address that client's pain points and goals.
This process doesn't end after you land an ideal client, either. You can use an account-based marketing approach to continue creating valuable and relevant messaging for your current clients, especially if you have new or improved services that you believe would benefit them. This is particularly valuable in the MSP industry, because your clients' needs today may be vastly different than what they could be five or ten years down the road.
Measure your results
After you've implemented an ABM system, it's important to continue to improve and discuss your strategy. This isn't just an occasional project for your sales and marketing teams; it's a new way of working together.
As the B2B buying process changes, it can be difficult to reach new customers. ABM is one way to address those changes, and speak right to the needs of your target clients.
Use HubSpot's ABM tools to power your strategy