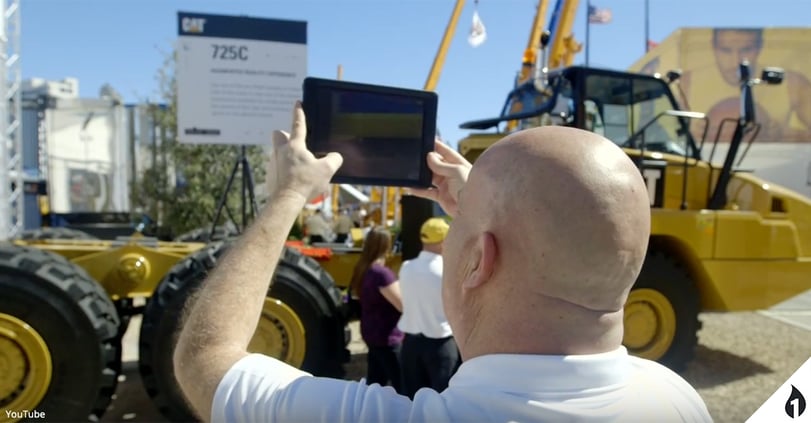 Take a trip to the Royal Ontario Museum and you can catch a glimpse of dinosaurs' appearances, movements and habitats when they walked the earth. The "Ultimate Dinosaurs" mobile exhibit uses augmented reality (AR) to bring the dinosaurs to life, and visitors can even download an app on their phones or iPads to explore the visuals. You can see a
short video of the experience here.
Museums have really taken to this trend. You can see the
Van Gogh Museum Antwerp's "
Van Gogh Re-created
" bring art to life, view ancient animals in their prime in t
he National Museum of Natural History's "Skin and Bones" app and step back in time with Kansas City Union Station's Living History App.
Augmented Reality blends seamlessly into museums' storytelling efforts, but what does it mean for your business? Pretty much the same thing, actually. You may not be presenting dinosaurs or ancient artifacts, but you can bring your own experience to life for customers.
Augmented Reality in Marketing Materials
AR gives you the chance to put as much material into a marketing piece as possible. If you want to put out a flyer, poster, or brochure, you can work in videos or image content by including codes for people to scan with their phones. This makes your materials interactive and exciting, while still appealing to both traditional and tech-savvy consumers.
Make Large-Scale Items Portable
If you're trying to show off a car, piece of machinery or a location, it's going to be a challenge to capture that without inviting people in. This is where AR can really make your product shine. Just by scanning an image, consumers can take a 360 degree look at what you're offering. It paints a complete, interactive picture you can't get with 2D alone. Ford has really taken advantage of AR lately, especially with their new Mustang model.
The car's image becomes life-size and is projected anywhere the user points their tablets or smartphones. The user can actually "see" the car in their own driveways and garages.
If you're working with a product that sells on experience, AR is an amazing way to capture and transport that experience anywhere.
Foster Engagement
A mobile exhibit that interacts with your customer, and allows them to do the same, means that they are engaging with the product before ever being sold on it. Once they've had the opportunity to experience something in real time, in its real environment, they already feel invested. AR allows them to picture themselves owning it, and it gives you an edge over other products they haven't had the chance to interact with.
Better yet, you won't be a card or brochure that potential customers lose and forget about. With AR, they can save the simulation to their phone or email and come back to it whenever they want.
Experience Augmented reality For YourSelf. Download Now: