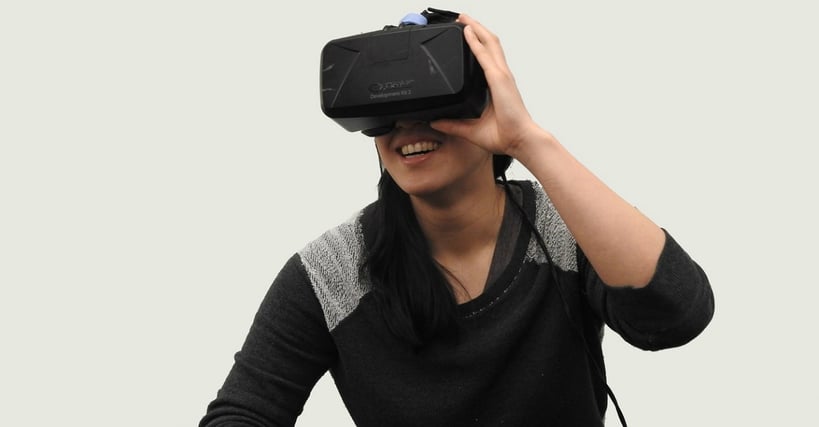 How do you know if your trade show appearance was successful? Outside of the obvious - someone calling up your business and saying, "Hey, I stopped by your booth and was so impressed that I'm about to start reading off my credit card number!" - it can be difficult to judge how effective your display was. Surely, it raised awareness and served to strengthen your brand. But, how does that translate to leads and to closed deals?
Prove trade show ROI with an immersive virtual reality experience.
Virtual reality is rapidly moving from a 'nascent technology' label to an 'omnipresent technology' categorization. If you haven't already seen it, you can trust that your competitors are researching how they can leverage this technology to stay ahead. That's a compelling reason to beat them to the punch. Virtual reality experiences are immersive, engaging, and offer prospective customers something new and exciting. With a built-in 'wow' factor, those who try your VR experience will remember your name and tell their friends.
Why aren't you doing this already? There are a few common objections to building a VR experience for a trade show but they don't necessarily hold up.


Objections to Creating a VR Experience:


Cost
Virtual reality sounds like it costs a pretty penny (or two or hundreds of thousands). That's true, if you go the 100% custom development route. In that scenario, you're bringing an idea to a company and having their developers build it from scratch, bringing it to life. The benefit is, obviously, that you have complete control over look, function, and design. The downside, of course, is that you'll be paying for it. Fortunately, that's not the only option on the table. There are platforms that can be branded 100% for your business, but don't involve the sizable costs of custom development. In that situation, you're selecting assets and features, which are then plugged in to a platform. It will look and act like a custom developed experience, but cost a fraction of the alternative.
Timeline
It should come as no surprise that the aforementioned custom development route also takes a ton of time. With any from-scratch project, there's scoping, frequent communication, and a boatload of revisions and changes. As with any creative endeavor, custom development projects are often paused, left in limbo, and picked up at a later date (or shelved entirely). It requires concerted effort on both sides to drive the project towards completion. It also comes with many unknowns. There's testing that needs to be done and hardware that needs to be evaluated. That's why so many assume that the timeline for a VR experience for a trade show will be too long. Fortunately, as mentioned above, going with an established platform cuts that timeline down considerably. The up front research is already done and the components are in place. The project time is devoted to branding the experience for your business, instead of tinkering with the actual foundation.
When you opt to build on an established platform, that can come with other benefits, too. Those include lead capture capabilities and valuable analytics, necessary tools for proving trade show ROI.


Measuring Your Return On Investment:


Lead Capture
Chances are, most people aren't going to call you up and tell you they were influenced by your trade show display. That leaves you guessing at trade show efficacy and it can be frustrating as you try to plan out your marketing strategy year over year. Ideally, your trade show display would have some kind of easy lead capture capability. That's where a VR experience built on a platform can be so effective. Choosing a platform that ties into a CRM, for example, will allow you to easily capture leads as users input their e-mail before trying your VR experience. It's a reasonable barrier to entry and one that a prospective customer will be happy to jump over, if it means trying out something cool in VR. Once that lead is captured, you can nurture it and work toward closing more sales. When it comes time to present an argument for trade show ROI, you can point to hard numbers.
Analytics
Speaking of hard numbers, with the right VR trade show platform, you'll be able to gain valuable insight into the trade show behavior of prospective customers. What marketing asset did they spend the most time engaging with? Find that out, then send an e-mail that reinforces special features of that product. How long did they spend in the experience altogether? That could be a simple tell of their interest level. Capturing the lead is critical. Having analytics on that lead that can instruct you on how to nurture them is next level. Find a VR platform that allows you to both capture and track leads. It will help you prove trade show ROI and deliver qualified leads (and valuable insight) to your sales team.
If you want to stay ahead of your competition, start leveraging VR for trade shows today. It's more affordable and takes less time when you find a VR platform to build on. There's also the potential for lead capture and lead tracking that will help you prove trade show ROI and be able to confidently declare each appearance a success.