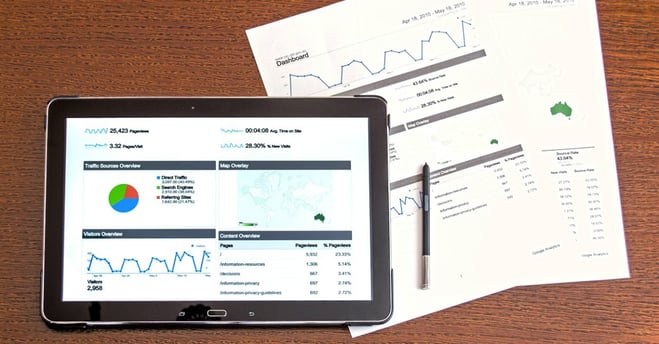 Inbound marketing is essential to expanding your business and connecting with clients. It helps you build your brand while you establish trust with your audience. But marketing tricks and tools are also constantly in flux, which makes it challenging to decide where to focus your attention.
Analytics are there to help you through that problem. Inbound marketing analytics show the numbers behind the campaigns. They tell you what's working and what isn't, and some potential areas for growth.
These analytics can unlock some very powerful insights into your inbound marketing efforts. The good news is, there is abundance of that data available to you and your business. But there is also so much data that it can be overwhelming to make sense of it all.
Here are some of the most useful inbound marketing analytics to help you transform your
marketing approach
:
Traffic
For most businesses, they want their inbound marketing to drive potential customers to their site. If you want a big-picture view of your marketing success, start with website traffic. This is going to tell you who is stopping, where they came from and how long they spent on your website.
You'll get a feel for your best referral sources (Social media? Newsletters? Online searches?) as well as an understanding of your visitors. Basic analytics will usually be able to tell you what country they're from, how they found you, and which pages are drawing their time and attention most.
These analytics will start painting a picture of your typical visitor, especially the ones your site resonate with the most.
Here are some specific focus areas for your traffic:
Click-through rate
Your click-through rate tells the story of your inbound marketing success. This number indicates the percentage of people who actually click on a link or call-to-action button to go to your website. The clearer your call to action and the better your content, the likelier you are to draw visitors to your site and increase your click-through rate.
Bounce rate
A bounce rate tells you what percentage of people end up on your site but leave before clicking anywhere else. This tells you how many people aren't finding anything else of value after initially arriving at your site. Your bounce rate could also be high if the page title and meta description, which helped the visitor decide to your site, don't match the page once they get there. Make sure you deliver on promised content when you're trying to guide a visitor to your site.
Time on page
Do you want to know if your titles and meta descriptions are effective? Check out your visitors' time spent on page. The better the content matches their intent, the longer they'll stick around. Increase this metric by including additional content to keep them around, like videos. And of course, don't forget how important it is that your title and description accurately depict your content.
Time on site
The average time on site metric shows how long your site visitors are hanging around your site overall (not just on a certain page.) Google rewards longer time spent on sites because it indicates that your site was useful to a searcher. So usually, if users spend more time on your site, you'll rank higher in search engines.
Lead Conversion
Lead conversion shows you how well your landing pages are performing. The lead conversion rate is made up of the percentage of people who click on a call-to-action button and submit requested information. This is essential information if you've got multiple landing pages and you want to see what works best, or if you want to track where your leads are coming from. These numbers will point out your strengths and help guide your future call-to-action pages.
Engagement
Engagement applies to your social media outlets and interaction from your followers. Regardless of how many followers you have, if you're not receiving any engagement, you're missing out on key insights into your followers' problems and priorities. Engaging with your followers looks great for your brand and business, and it boosts social shares, which opens you up to new pools of potential clients. Social media is fantastic for sharing your content, but don't forget to interact with your audience as well.
There is no shortage of ways to measure your inbound marketing analytics, but not getting overwhelmed is key. Choose a few essentials to pay attention to, and you'll have a quality pool of data to help transform your marketing approach.