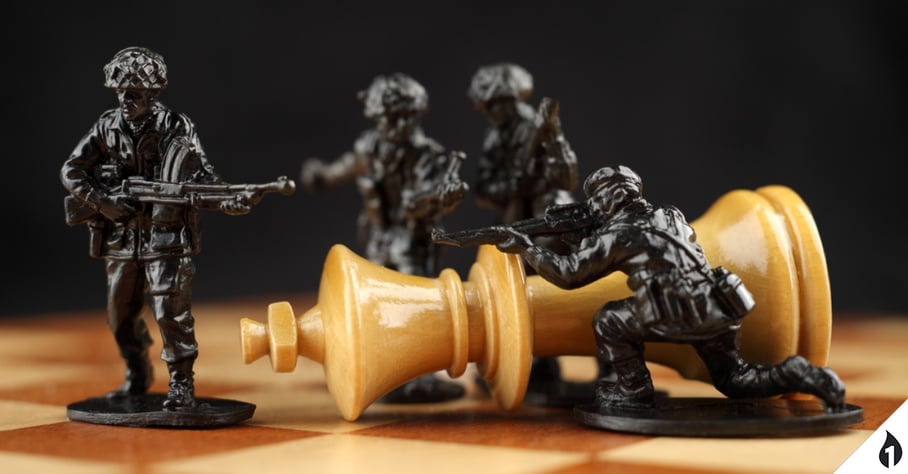 Even though it's, frankly, asinine to compare business, sports, or anything else to actual war, there's a reason the metaphor is so popular: it simply and clearly illustrates its point.
Clear illustration is important. Imagery is the driving force behind understanding. Visuals help us understand concepts (like the game of business) and can help consumers understand a product or service. The latter is why the business with the best imagery most often 'wins the war' (so to speak).
Insanely, the use of computer generated imagery in marketing is still relatively rare! Using CGI in your marketing campaign is a quick way to gain an advantage on the battlefield of business and you'll KILL your competition. 'Kill' might sound like an extreme word choice for a marketing tool. But it sure drives the point home:
Know what the future looks like
Being able to see the future is effectively a superpower. While using computer generated imagery in marketing won't tell you who the next president will be, it can help you create visuals for products that don't exist yet. Seriously. Using data, you can pluck an object out of the future and show it to potential customers before it physically exists. While a talented artist could take a shot at sketching what a product might look like, CGI can get it exactly right - down to the last detail.
Imagery, faster
Aside from that one story with a tortoise and hare, 'slow and steady' is a terrible racing strategy. When you're trying to market and sell a product or service, being fast and first puts you ahead. CGI uses data to build imagery. That is a hare wearing a jetpack compared to the tortoise that is photography and videography. Traditional processes for getting the imagery you need involves dragging a crew and loads of equipment to a site to shoot a video or take a picture. That initial process can take forever. That's not even taking into account editing and any reshoots.
Limitless possibilities
Another magic trick you can pull off when you use CGI for marketing is bending reality. Pretend you're marketing a pickup truck. You want to show that your truck is durable and rugged. It was built to go off road! But, there's a problem. Once you drive it through muddy terrain, the truck is a mess. There's splatter everywhere and even your logo is speckled in brown. If you're taking a photo or video, you're probably out of luck. You can't have a spotlessly clean truck drive in muddy terrain. It's not possible. You see where this is going: CGI can manipulate data to create imagery that isn't otherwise possible. You can show your product in any setting, in any color, in any way you need to.
Less cost, more reuse
Besides being slow, traditional imagery methods like video and photos are costly. In addition to paying a crew to haul equipment out to you, photos and video are as is. Once those pictures are taken or that video is shot, editing can only do so much. What if you release a product, then decide to make a significant change to it? You have to take all new photos and video to reflect it. There's no reuse ability. With CGI, you can modify the data and imagery quickly and easily. CGI can also appear across all of your marketing channels. Instead of creating a different visual for each channel (your website, brochures, broadcast), use CGI and save significant money.
Those are only some of the compelling reasons that using computer generated imagery for marketing will help you kill your competition. CGI can do things for your marketing that photos and video simply can't.
Oh, did we not mention that computer generated imagery is cleaner, sharper, and more detailed? That it's an all-around superior way to display a product or service?
It's all that too.
How does cgi become a reality?