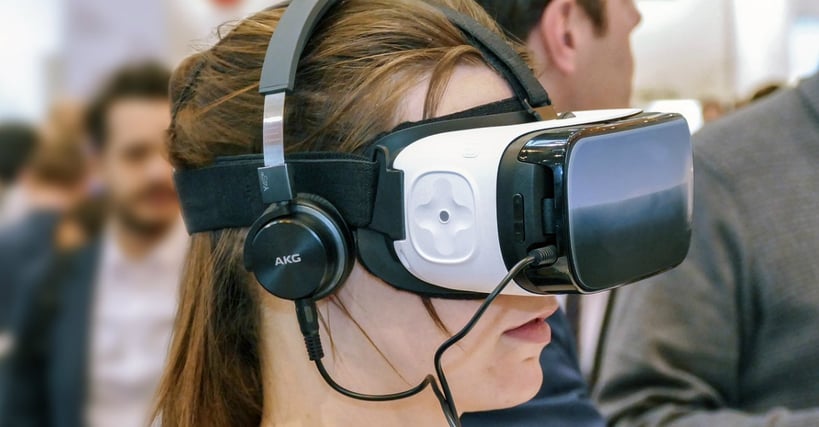 Want VR for trade shows, but can't afford it? Here's a twist: you CAN. Building a virtual reality experience doesn't have to be prohibitively expensive. Depending on how you go about it, having a virtual reality experience to showcase your product at your next trade show may be more attainable than you think. Virtual reality can be an incredible tool for attracting potential customers and capturing leads. It's an innovative way to showcase your product that will leave a lasting impression with those who visit your display.
If your budget is limited, it's important to know your options for having VR for trade shows. You can go the custom development route or you can have your experience built on an established platform/product. The latter can dramatically lower your costs, while still delivering the results you're looking for.
Custom Development
From-scratch custom development works like this: you bring an idea to a development team and they make that idea come to life. That involves a boatload of variables (hardware, software, functionality, design) and a ton of research. When you go the custom development route, you're footing the bill for more than execution: you're footing the bill for the time spent figuring out how to execute.
Consider:
Cost
Conservatively, development for a VR experience would start somewhere in the $30K and only soar from there. That's a considerable chunk of change and a major commitment of budget resources. But, that is a going rate for custom development.
Timeline
Custom development virtual reality projects can take anywhere from a month to a few years, depending on complexity. With any custom development project, it's difficult to say from the start how long it will take.
Features
Going the custom development route does offer a near-unlimited menu of feature options. While that freedom seems attractive, it can also be overwhelming. It can be tempting to keep naming things you want included and that temptation can lead to ballooning costs, an endless timeline, and an experience with superfluous features.
Established Platform
When you start with an established platform or product, much of the infrastructure for an immersive VR experience is already there. It's then a matter of branding it for your business and product, so it becomes your own. With less necessary research and no need to build from the ground up, your experience can be ready to go faster and at less cost.
Consider:
Cost
Building on an established platform allows a development team to move quickly. There will be less research, less uncertainty in software, hardware, and execution. In turn, getting your experience built will cost less. When you opt for an established platform or project, your project can cost as little as $6K.
Timeline
Because the plaform/product is pre-built, the development team can spend their time completely focused on your brand and tailoring your virtual reality experience to fit it. You can get this type of VR experience built in as little as 2 weeks.
Features
With an established product or platform, there might be less feature options than you'd find in custom development. But, those features will cover all the ground you need. Given that the development team will know the menu of features ahead of time, it will allow your project to be completed in less time for less cost.