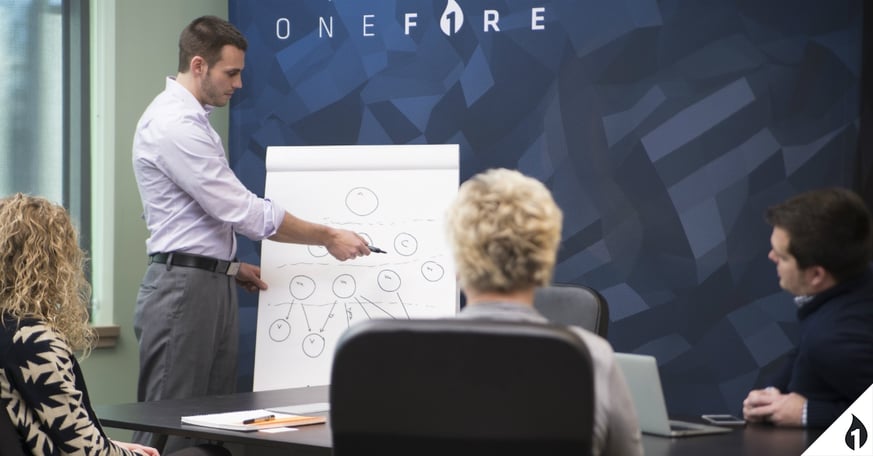 New Year, New OneFire.
In less than a month, we wave goodbye to a tumultuous 2016. Jake Hamann stepped down as CEO of OneFire, with Jason Parkinson moving into the role. OneFire is transitioning from a jack-of-all-trades Innovation Agency (with a custom development and marketing lean) into the Research & Development space. Innovation is still a major area of focus, but the process is streamlined to better serve enterprise partners. With Innovation Workshops, OneFire will help the enterprise solve problems and win big. Look for further details and more news early next year.
In addition to its Research & Development/Innovation core business, OneFire will continue to operate its Inbound Marketing arm, helping businesses locally and nationally achieve outstanding results in connecting with customers and generating new leads.
As OneFire refines its focus, some tangible changes will also be taking place. By 2017, you'll be able to find OneFire in downtown Peoria on Pecan St. The anchor tenant of the new Cooperage 214 residential and commercial building located in the Warehouse District, OneFire will be conducting business from its new digs in the new year.
OneFire will also have a newly redesigned website and new branding for 2017 and beyond.
The year 2016 compelled OneFire to firmly establish 'Who We Are' and OneFire is excited to see that vision take hold in 2017. OneFire's partners and customers stand to gain immensely from a stronger focus, better offerings, and a continued commitment to customer success. OneFire preaches innovation and practices it, too.
As technology continues to streak across the sky, OneFire is wrapping its arms around that comet and discovering new ways of applying it to the enterprise. Skillfully leveraging technology leads to problem solving and actionable innovation. By putting innovation to process, OneFire can offer its partners structure for great ideas to flourish and truly transform business.
More updates and exciting news to come in 2017!
OneFire Helps the Enterprise Innovate Through Process: