The April Issue of InterBusiness Issues (IBI) magazine is packed full of Technology topics like driverless cars, cybersecurity and cloud computing. OneFire's CEO, Jake Hamann, had the opportunity to sit down with the team from IBI for a Q&A session all about innovation and how OneFire and Startup Peoria fit into this space.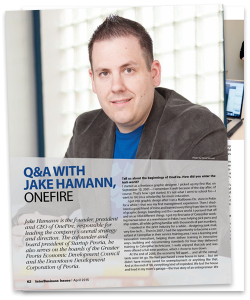 Tell us more about your R&D efforts. What are you looking into these days?
There's a lot of talk about augmented reality and virtual reality. Google Glass was kind of hit and miss, but there is a lot of promise in the headset space and of course, with wearables. The Microsoft HoloLens and the Oculus VR—which was bought by Facebook...
What cutting-edge technologies do you believe hold the most promise for business?
We just released a whitepaper on the Apple Watch and how it will affect the enterprise. It's interesting because most Apple products are released to the consumer first, but we're always thinking about how those consumer products relate to business...