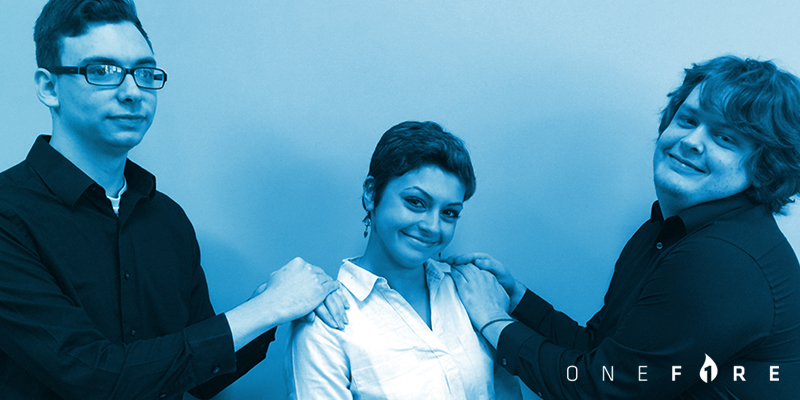 Life is all about milestones; getting your driver's license. Graduating from college. Landing your first adult job. Marriage. And of course, having children. Each turning point seems to set the stage for the one that follows, keeping us ever-eager for that next step, that next adventure. At OneFire, we've had some milestones ourselves lately. A few months ago we turned 3 years old, and so naturally we started thinking about our next adventure: having kids of our own. We wanted to share this awesome world we're engaging our customers in with a new generation, to teach them all the things we've learned as we've grown up, and hope it sparks them to continue building the bright, innovative future we're all committed to here.
But as we're an innovation agency, we thought it best to skip some of the... shall we say messier years, and have our youngsters an age that can hold an iPhone without wanting to eat it. So we agreed on college juniors and seniors, and invested in our first collegiate internship program. After months of diligently vetting an impressive group of candidates, OneFire is proud to introduce the first 3 students that we feel represent our culture of talent, teamwork, and creativity:
Jordon Lamping - Interactive Media/3D Design (left)
Jordon's work has a dramatic style that captures the eye and stirs the imagination, and his sincere demeanor makes him the artist everyone wants on their team. When Jordon isn't creating, he's active in the Lambda Chi Alpha fraternity and excels at team organization and community service. Jordon also serves on the Dean's Advisory Committee.
Laura Picardi - Graphic Design (center)
Laura packs a double punch as graphic artist with a social media minor, complementary disciplines that will serve her well. We were enchanted with Laura's ambitious, outgoing personality and her avant garde approach to design challenges. In addition to her creative side, Laura is a natural promoter and leader who serves as a Bradley Admissions Representative and as Social Chair of the Gamma Phi Beta sorority.
Nathan Clark - Interactive Media/3D Development (right)
Nathan is a computer science major who wowed us with his serious 3D animation chops. He's passionate about game design and especially character design. Besides developing, Nathan serves as both the Vice President and Treasurer for Phi Gamma Delta. An accomplished student, Nathan receives the BU Presidential Scholarship and is active in philanthropic endeavors though his fraternity.
These students were the standouts in a long and careful process, and we're very excited they felt the same way about us. Choosing an internship between Junior and Senior years is a once-in-a-lifetime experience, so it's with a deep sense of responsibility that we steward them over the coming months. We'd like to thank Bradley University as well; in January OneFire partnered with Bradley's Smith Career Center to find the brightest talent in visual media, interactive media, and creative software development. They were extremely helpful throughout the process, and continue to be a reliable resource going forward.
Today, OneFire is honored to officially launch our internship program, contribute to an aspiring generation of young creatives, and strengthen the community we call home. Laura, Jordon, and Nathan: welcome to the OneFire team! We can't wait to share this adventure with you. Just please, don't eat the iPhones, ok?