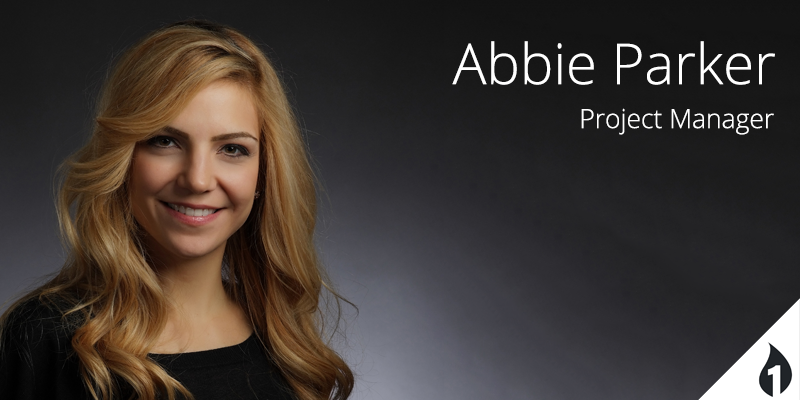 Name: Abbie Parker
Hometown: Nashville, TN by way of Morton, IL
What stands out about OneFire's culture?
The energy and enthusiasm of its employees and leaders makes OneFire different from any place I've worked before.
What are your long-term career goals?
Win a grammy. Just kidding. Conquer the world.
What do you predict will be the next big technological advancement?
Live 3D virtual concert experiences.
The coolest piece of technology I own is:
My 27" iMac and my Apogee One (digital audio interface).
What's your favorite app and why?
Waze – I drive back to Illinois a lot and this app incorporates a social aspect into a navigation app. Other drivers can report slow traffic, accidents and even speed traps.
Describe what OneFire can do for a business in two or less sentences:
OneFire brings a fresh perspective to a business' needs. They have the energy and experience to apply sharp design and useful technology to a solution.
What are some advantages and challenges of working from Nashville?
Nashville is the center for songwriting in the U.S., so there are incredible musicians and live music venues on every corner. I love that working from Nashville allows me to remain involved in music while also pursuing my career in project management. The only downside is that there aren't enough hours in the day to see and do everything I want to!
What are you most proud of, so far, in your OneFire tenure?
I'm proud to be a part of a team that creates cutting edge content and tools from scratch. I've been a project manager at a few different companies, but at OneFire I feel like I'm part of something important. And the fact that the company was started by my friends and has grown from the ground up in Peoria, Illinois makes me really proud.
What is your band name?
My solo work is under the name Abbie Parker. I'm also currently singing with a band called I Am They, signed to Essential/Sony Records.
If everything breaks right, where is your music career one year from today?
If there's one thing I've learned from pursuing music, it's that you never know what opportunities are going to pop up in the future. A year from today, I hope I'm continuing to make original music with fantastic musicians – wherever that might be and whatever that looks like are up for grabs!
Do you write your own lyrics? If so, what/who are your influences? If not, how collaborative is that process? Who is involved?
I started writing my own lyrics and music a few years ago, either by sitting down and fleshing out a concept on paper, noodling around on the piano or trying out some different chord progressions on guitar. I also co-write with people in Nashville, a process that always challenges me to put my ideas on the line and be open to the unique style that each person brings to the table. A co-writing session may not always result in a hit song, but it almost always helps me grow as a songwriter.
Are there any vocalists who've inspired you? Influenced your own work?
I love vocalists who have an unmistakable sound and aren't afraid to be a little left of center. Some favorites are Nina Simone, Stevie Nicks, Glen Hansard, Justin Vernon, Conor Oberst, and Joy Williams.
What success have you seen so far in the music industry?
One of the first songs I wrote, called Wildflower, won runner-up in the 2012 International Acoustic Music Association, and was also placed in a feature film, "Tyler Perry's Single Mom's Club". Writing, recording and promoting that song was a labor of love, and its success is beyond what I had ever imagined.
But I think my musical failures should be mentioned in the same space, since the successes are much more rare than the rejections. I have entered and failed a LOT of singing and songwriting contests. I've been "X'd" off shows by celebrity judges (thanks Piers Morgan!), and told I didn't have the right look or age or backstory to be successful in this business.
The most important lesson I've learned from my successes AND failures is to be true to myself, but also accept well-meaning constructive criticism and actually use it to get better at my craft.
Describe how OneFire and your music career fit together successfully:
Fortunately, OneFire itself is filled with musicians and artists of many disciplines, so I feel completely at home there. I met the CEO of OneFire, Jake Hamann, while performing in musical theater about 16 years ago, and our paths have continued to cross musically and professionally since then.
I think the thing that allows me to pursue both a career in project management and my passion for music is the flexibility and support I receive from my colleagues at OneFire. Thankfully the digital nature of our work allows me to manage projects from any location, but I still try to visit coworkers and clients in Peoria about once a month. And as a musician in Nashville, I feel privileged to have a "day job" that's fulfilling and that I can take with me on the road. Best of both worlds.
Catch Abbie with the band "I Am They" at the nationally televised Dove Awards on Sunday Night, October 18th on TBN.