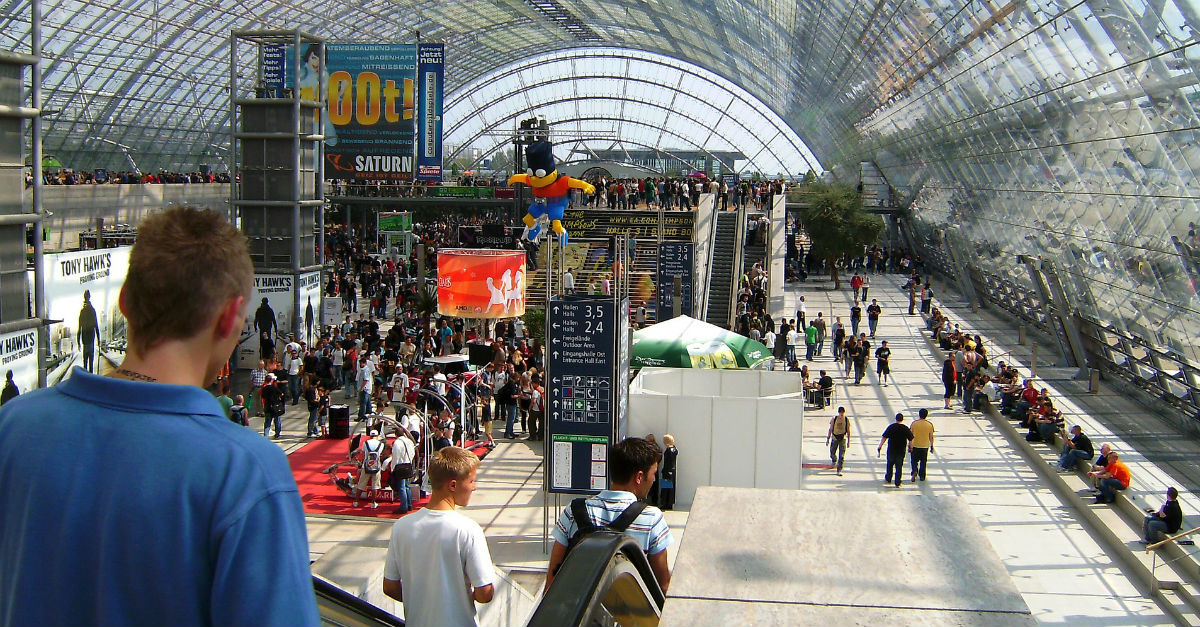 Telling one company apart from another at a trade show can be a tall task.
Make it easier on conference attendees by standing out from the noise.
One way to do that is by gamifying their experience.
You attract more prospects to your booth, the prospects engage in a remarkable experience, and everyone wins.
Here's how to get started with gamification at trade shows.


Offer Games At Your Booth
One way to set yourself apart from other vendors is by offering games at your booth.
A simple game would be to have attendees who visit your booth drop their business card in a bowl. Let them know what is at stake in the drawing—you could offer anything from a bag of branded goods to a free book one of your experts wrote. The sky's the limit.
Then, every so often, draw a card from the bowl. Contact each winner to notify them of their prize so they can return to the expo hall to visit your booth.
Another idea would be to give attendees the chance to spin the wheel or throw a dart toward a dartboard. Wherever the wheel stops or the dart hits is marked with a prize that you could give away. Like drawing from a bowl, you can make the prizes anything you wish.


Follow The Trade Show Organizer
It is generally in the best interest of trade show organizers to make sure exhibitors are pleased with their investment. After all, exhibitors make up a significant portion of conference revenue.
Check with your trade show rep to see whether they are offering a passport experience. A passport allows exhibitors pay a bit extra to have their logo listed on a piece of paper that is usually included in the welcome swag for attendees. They may then travel from booth to booth and get their passports stamped by each exhibitor. Once they have accrued enough stamps, they drop their passports into a box, and the organizers draw one to several winners.
Another option would be to consider placing ads in the trade show app.
Many conferences build apps to enhance the conference experience. These apps generally include schedules, maps, exhibitor descriptions, speaker bios, and social feed. The ads you place could be included in that social feed.
"Buying ads is not gamification," you might say.
You are right.
However, many trade shows incentivize their attendees to post to the social stream. Attendees may earn points for posting, sharing photos, or anything else that populates the stream.
With ads representing your brand, you can be seen in this stream.


Liven Up Speaking Sessions
If you've secured a speaking session at your next trade show, you want to avoid giving a droll presentation from a slide deck.
Spice your deck up with interactivity. Include polls to survey your attendees about their preferences and opinions. A number of survey tools are available to help the people in your presentation feel like they are on a game show.


Use Emerging Technologies
A final way to bring gamification into trade shows is with augmented reality and virtual reality.

That's what Motorola did.

The company had prepared to launch a new device. As with any ramp-up to a new product, challenges arise in both marketing the new product and training sales reps on its new features and functionality.

Motorola released a suite of three apps, including two games, that leveraged the unique capabilities of the new device. As a result, their reps increased their product knowledge, and prospective buyers had fun learning about the device, as well.Whether you are looking at a drawing or an immersive environment, there are many ways to gamify a trade show.Stand out from the other exhibitors and bring in more leads at your next event.