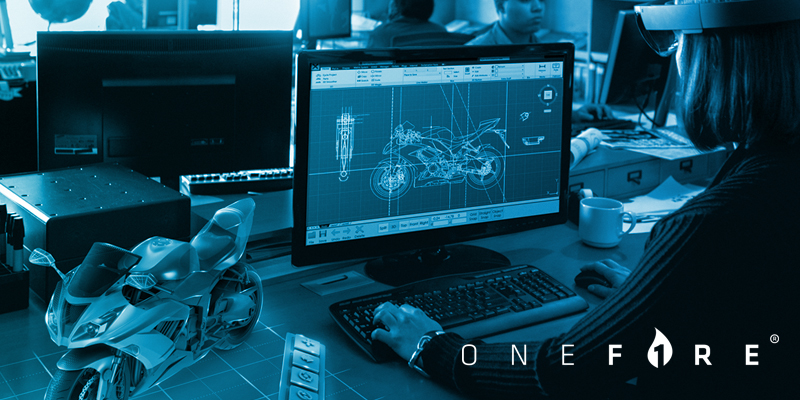 One of Augmented Reality's greatest strengths is often trotted out as a weakness. It's not immersive enough.
But being transported to another world isn't typically the best policy in the office. Being in the office, for better or worse, is mostly about getting tasks done. That includes the boring, tedious tasks. It's there that the HoloLens can be most useful.
In a piece comparing the mainstream viability of Virtual Reality (Oculus Rift) and Augmented Reality (HoloLens), The Verge's Adi Robertson astutely concludes, "Virtual reality has given us a fascinating, novel way to consume media. If we're going to move beyond consumption, HoloLens is looking like the most likely choice so far."
HoloLens is a productivity tool that can revolutionize the mainstream office. What can the HoloLens add to the workplace? Here are four examples:
1. Hologram Displays
Whether it's a 3D image of a human heart explored before a procedure or a new piece of heavy machinery that can be altered and examined before a production order is placed, HoloLens allows for formerly flat images to become vastly more interactive – and therefore helpful. This could be applied across industries, as a way to improve education and functionality.
2. Holographic Landscapes
Scientists at NASA's Jet Propulsion Lab are using HoloLens to do the unthinkable – traverse the Martian landscape. What the Mars Rover captures, HoloLens can generate into a hologram representation and allow for unprecedented insight into an unexplored landscape. On a more universal level, think of the potential for being able to 'see' what a physical change in a room or building would look like before doing it. Physical alterations could be made on a hologram and evaluated before they're permanent. Think of redoing a kitchen. Before cabinets are torn down and a new island is installed, you can see whether it's the right move.
3. Remote Help
Rick Delgado from makeuseof says, "Imagine getting step-by-step instructions on things like home repair from an expert. Visual diagrams would actually show up in space around the user indicating exactly what you need to do next. This application could even extend to the battlefield, where detailed medical instructions could be given to untrained personnel in the midst of combat." In any situation where instruction is needed, HoloLens can eliminate the need to be in the same room for the full effect of the guidance.
4. Virtual Screens
Access to the Internet is vital in every sense. Finding ways to access work materials and information can be a daily challenge. The HoloLens would provide a platform where you could access everything you needed with a near infinite number of layout and configuration options. Instead of letting display be determined by a physical object, HoloLens can create virtual screens that can be altered to fit the needs of the moment. This makes employees more mobile and frees them from the need to lug a laptop or other device place to place.
As HoloLens continues to improve, it has incredible potential to show up in offices soon. As a productivity tool, your laptop might have some competition.
Infographic:
Want to learn more? Listen to our Director of Innovation, Harsh Shah discuss his experience with HoloLens: