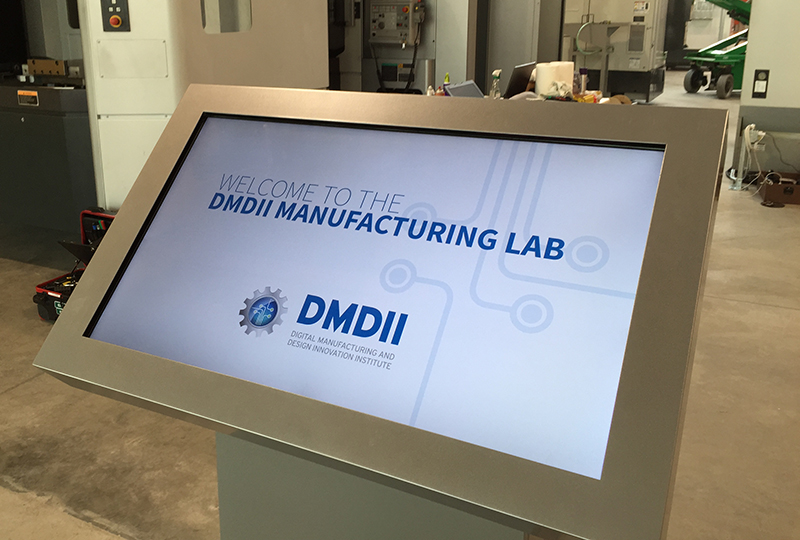 PEORIA, IL May 19, 2015-- OneFire, a Peoria-based innovation agency, has worked with UI LABS and their Digital Manufacturing and Design Innovation Institute (DMDII), to develop touch screen technology to be used throughout the recently opened manufacturing hub in downtown Chicago. DMDII is the nation's flagship research institute for applying cutting-edge digital manufacturing technologies.
A digital solutions leader, OneFire is initially implementing interactive touch screen software in several areas of the newly opened facility and partnering with UI LABS to continue to build upon the current experience and assist with future projects as they arise. Currently, the interactive touch screens showcase up-to-date information about the specific areas of the DMDII. In the near future, these screens will deliver on-demand information to visitors through an innovative, custom software solution.
Delivering the best user experience through touch displays has led OneFire to develop high-performing touch software for various applications in the medical and heavy equipment industries. Taking an intentional approach, OneFire works with its clients to leverage technology that will best help them achieve their mission.
"We are excited to develop this long term relationship with UI LABS," said Jake Hamann, OneFire President & CEO. "The DMDII is absolutely stunning and one of the most innovative places in the nation. The touch screen technology we are deploying throughout their facility allows users to maximize their experience by providing quick, intuitive and accurate interactions."
The DMDII is a collaboration of UI LABS and more than 40 industry partners, 30+ academic, government and community partners, and an additional 500+ supporting companies and organizations. The institute's mission is to develop and demonstrate digital manufacturing technologies and deploy and commercialize these technologies across key manufacturing industries.
_________________________________
Located in the NEXT Innovation Center in Peoria, Illinois, OneFire, Inc. (www.onefiremedia.com) is the premier provider for digital solutions and services, monitoring the latest gains and advances in technology and maintaining a pulse on an ever-evolving industry. The OneFire team molds its expertise to develop and deliver "the best way" solutions and services, focusing on nurturing existing business partnerships while seeding new ones across a wide range of markets and industries.
Press Contacts:
Jason Parkinson
OneFire, Inc.
jason@onefiremedia.com
309.740.0345 ext.101
[button open_new_tab="true" color="accent-color" hover_text_color_override="#fff" size="small" url="http://onefire.com/wp-content/uploads/2015/05/OneFire_UILABS_PressRelease.pdf" text="Download PDF" color_override=""]