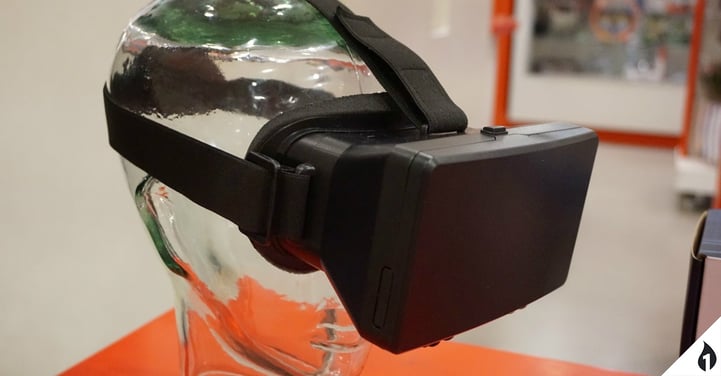 The goal for any trade show booth is to
create an eye-catching, immersive display
that captures attention and draws business. That's what makes virtual reality a natural fit for trade show engagement. If you want to stand out at your next trade show, here are 9 ways to incorporate virtual reality into your display:
1. Headsets
If you want to showcase virtual reality at your booth, you're going to need the technology to bring that to your visitors.
Part of the appeal of offering a virtual reality feature is the novelty of it. Headsets are a popular option because they're easy to bring along to trade shows and simple to share with visitors. Plus, if other attendees see a booth with a VR head set, it's going to pique their interest.
2. 360-degree video
This is another benefit of VR technology. You could show a video on a screen, but a 360-degree video is going to be a much more impressive experience for the viewer.
3. Computer-generated content
Just like with video, computer-generated content is much more effective via virtual reality. Watching a video of a digital excavator in action is a lot more impactful in virtual reality.
4. Product examples
You can show off your products in a pamphlet or a video, but they will be far more memorable with virtual reality. If you work with large products that can't be transported to a trade show, virtual reality is the next best thing to a real, in-person demonstration.
5. Storytelling
Trade shows are distracting. You will be competing with other booths, background noise and crowds of people. If you want to tell a compelling story, whether it's how your business came to be or a product launch, virtual reality cuts those distractions and draws the viewer in.
Production process
How are your products created? That process can make for excellent virtual reality content. It gives the viewer a front-row seat to what goes in to your products. Take advantage of the VR capabilities that aren't possible with regular video.
Interactive content
An interactive virtual reality experience is ideal for demonstrating what a product can do. If your goal is to show off the capability of your product line, then an interactive option is worth the production time and investment.
Immersive content
An immersive experience is best if you want to showcase a location. If you're planning to show off your plant, for example, you would use actual video as opposed to digitally-designed material.
Day-in-the-life content
Do you have a global brand? Or do you work locally? Either way, transport viewers to where your employees and products are doing their best work. Show them a typical day in the field or a new project oceans away. Again, remember what makes virtual reality unique and use those features to create a true experience for trade show attendees.