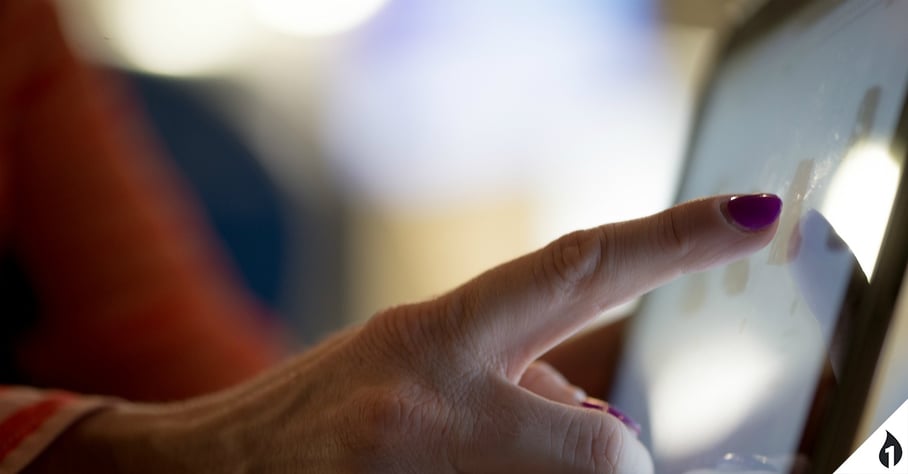 Every business should be using a touchscreen for training. Touchscreens can be adapted to any screen size and offer features that traditional training materials can't match. Touchscreens are naturally engaging (there's basically a call-to-action in the name: touch screen). They're also a highly efficient way of relaying important training information. Plus, they're a safe alternative for industries requiring training on heavy machinery or other equipment. Touchscreens will also improve the bottom line and have fantastic reuse potential. Using a touchscreen for training is an easy way to improve your company's training practices in an instant.
SEE MORE: Learn how OneFire innovates by downloading our free Nucleus Process map
Here are a few reasons why you should be using a touchscreen for training:
Engagement
Touchscreens are lightning quick, intuitive, and engaging. For those in training, a touchscreen puts the control in their hands. Instead of waiting around for the next instruction (as you might in a classroom setting), a touchscreen lets a user call up information at their pace. 'Information,' in this case, can be almost any kind of media. This includes video, animation, pictures, diagrams, 3D models, audio, and more. When those in training are easily engaged, the entire process is more effective. More information is retained and more is learned, faster.
Efficiency
When those who are training are equipped with the right technology, they train more efficiently. It makes sense: using a touchscreen allows users to dictate the pace of their training and what they'd like to learn when. That opens the door to more innovative training solutions. Given the freedom to move at their own pace, those in training will absorb the information in their own style. Chances are, their personal style will take far less time than when they're forced into a traditional training structure. Touchscreens are also simply faster. Brilliant display and responsive commands team up for an experience that's ultra-efficient.
Safety
Training collateral can be clumsy to handle. Manuals and other print collateral need to be held open and read at the same time, changing out videos in a DVD player takes additional steps, and dealing with physical models can be downright hazardous. Especially in industries that deal in heavy machinery or otherwise dangerous equipment, safety in training is critical. Using a touchscreen for training, users don't have to fumble around with cumbersome materials. Touchscreens are sleek, un-intrusive, and relay information more quickly and effectively than traditional alternatives.
Reuse + ROI
Traditional training materials have to be completely redone every time there is a change in procedure. Unless the gameplan is 'a lot of white-out' or 'giant eraser,' that's going to be a huge cost incurred every time it happens. Touchscreens are entirely digital. Things can be included and taken out more easily and at less of a cost. Building a touchscreen experience delivers incredible ROI on your training methods. Training is a significant cost. Knowing that you've invested in a technology that will deliver the results you need is important. As a bonus, you'll pay less over time with a touchscreen than you would pay with traditional collateral.
Touchscreens are an underused training tool that too few companies take advantage of. Building a touchscreen experience can engage users, boost efficiency, improve safety, and provide superior ROI. If your company is not using a touchscreen for training, it's time to get started.
Ready to build a touchscreen experience? Start with our checklist: