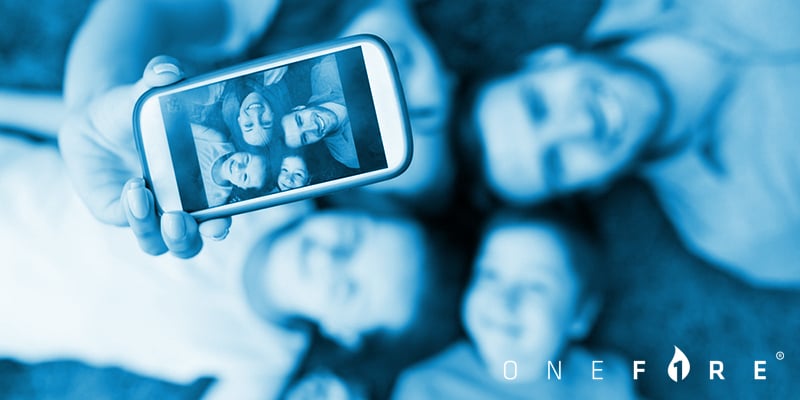 Voicemail from daughter Kate: Hey mom, don't forget that tonight is my soccer game. You said you'd bring water!
Post-it note from son Nick: Need ride to train station at 6 p.m. Can't miss it!
Wall-calendar item: Date Night
You know your husband has been anticipating date night all week. You know because he said "I've been anticipating date night all week" earlier in the day.
But, Kate and Nick both need you and it's impossible to be three places at once. You'll have to find some way to cover all your responsibilities.
Before you let the post-it notes, wall calendar, and voicemail explode in a Battle Royale to the death, consider skipping the brouhaha and keeping your family organized with the help of something you already use every day.
There are apps and tools on your smartphone and laptop right now that can get the entire family on the same page. This can be crucial. Each family member has a busy schedule and core tasks (grocery shopping, cleaning, bills) need to happen consistently. Why wouldn't you leverage what's already available to better meet those needs?
Let's run through a few apps (some built-in, some you'll have to download) and explain how they can help keep your family and home humming:
iOS Reminders app:
iPhone users have, at their disposal, the Reminders app built-in. It's relatively quick and easy to learn to use. Reminders can help you create lists and reminders (like this name!) for one-time or recurring events. Obviously, this has innumerable uses – from remembering to buy birthday gifts, to extracurriculars, to an alert that it's garbage day. But, the coolest application of Reminders is the shared list. Shopping can be an endless dance of 'forgot this' and 'need to go back for that' and 'why didn't you tell me we ran out of X?' With a shared list, any member of the family can add items and remove items from the list, eliminating miscommunication.
Cozi
Cozi keeps each person's calendar in one place. That way, whenever somebody adds an event, it syncs with the family calendar and you can easily keep tabs on who is busy and who's not at any given time. The calendar is color-coded by person, so it's simple to differentiate between appointments. Cozi can also sync your calendars with Outlook. You could set up a Google Calendar and it would work similarly. But, if you want even more sharing and familial collaboration, Cozi can get intense – like 'family journals' everyone can contribute to.
Chore Hero
Organizing and assigning household chores can be a tall task, but it's an important one, lest you watch you kitchen gradually become a pots, pans, and plates graveyard. It can be especially tricky recruiting kids to help the cause. Chore Hero can assign chores for you, or you can assign the duties. Either way, the app holds each person accountable for his or her assignment. Chore Hero not only organizes and tracks, it uses gamification to incentivize chores, giving chore-doers points for their work. Collect enough points and you can be titled 'Chore Hero.' It's a shot of affirmation for helping around the house and builds good habits.
There are tons of apps and tools available to help you keep your clan organized. Consider this a starter-kit: synced shopping lists, shared calendars, and chores for heroes.
You knew that smartphone was good for something.
Did you know? Your smartphone can also be your best friend when you're traveling for business. Download our list of the six best apps for travel now: