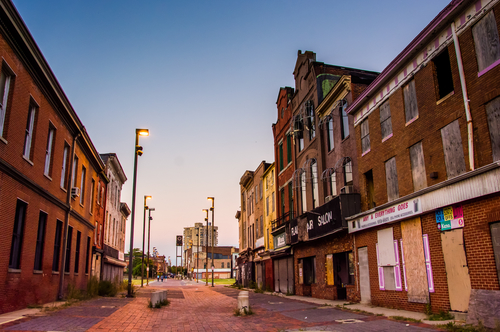 I walked up and rechecked the address on my phone a few times.
This was the place.
But I kept thinking: It looks abandoned. Clearly, this building had seen several different lives and all of them were rough. It might've been an old Greek restaurant. Or maybe a Laundromat. What it didn't look like was a credible business that sold quality products – and it was.
That kind of first impression can keep potential customers from walking through the door. But it's extremely costly to move from building to building, no matter how dilapidated your location becomes. In a perfect world, you could swap your building for a newly renovated one every few years. This – spoiler alert – isn't a perfect world, but the way that it's moving suggests that keeping your business' design up-to-date is more realistic than ever.
That is, if you think of your website as a secondary – or primary – 'storefront' (and you should).
According to Yelp, 85% of people find businesses online. That means that more often than not, a consumer's first impression of your business is going to come from your website. Is that a good thing? Maybe. It depends on whether your website is up to date. Chances are, if it hasn't undergone a redesign in the past three years, it's not.
The good news is that unlike moving out of a building with cracked paint and a sagging roof, a website redesign won't ruin your budget and can be turned around quickly - with the help of the right agency.
Statistics on web redesign frequency can vary, but some have the average as low as 18 months. Updating your site every 18 months sounds daunting and may not be right for every business. But, the idea is correct – technology and design both move quickly and your business needs to keep up or risk losing out.
Let's go back to the blighted building. It's hard to look past it. The same is true for a website that rivals the internet-famous Space Jam site. How can a consumer trust in your abilities if your website is a relic or close to unusable?
How do you know if your website needs a redesign? Again, a fair amount of this is subjective. Make note of your last redesign. Make note of any outdated information or an aesthetic that says "it's unclear whether we're still in business." Is your site broken, impossible to navigate, or confusing? It's time for a redesign.
Aside from any deficiencies your site might have, redesigning your website often allows your business to stay current with design and functionality.
If your website is a 'storefront,' don't let it be one that leaves visitors thinking: It looks abandoned.