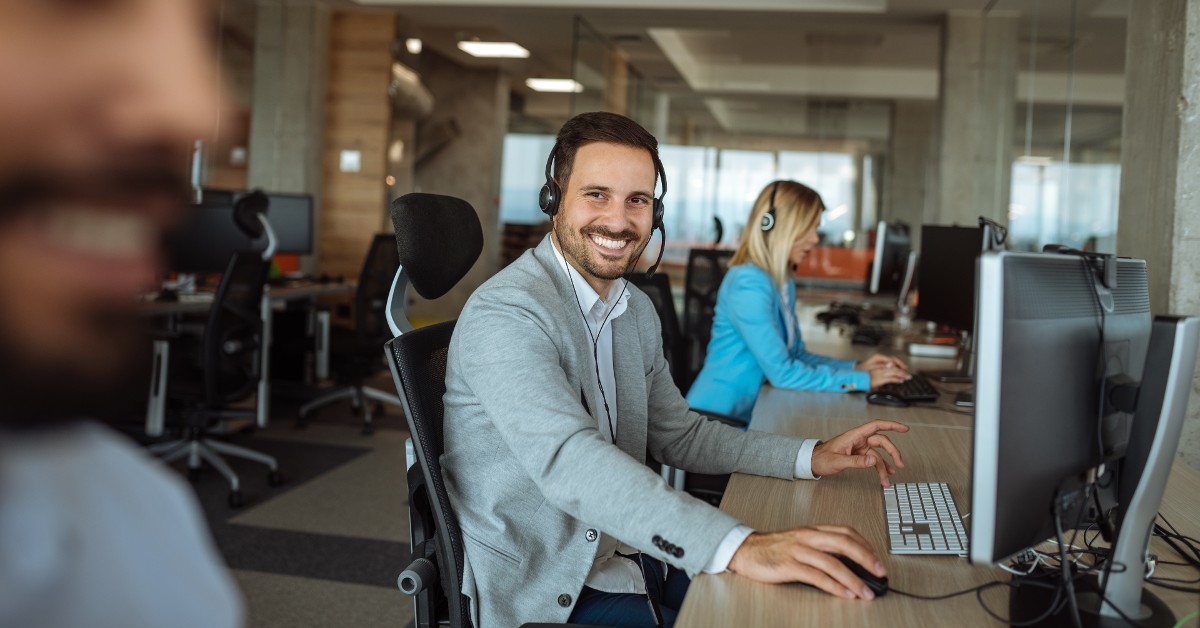 HAI Group is a nationally recognized family of companies known for pioneering insurance programs for the public and affordable housing markets.
HAI Group also offers risk management consulting and online professional development training designed specifically for multifamily affordable housing providers.
The online training business unit offers a subscription-based service to over 130+ online courses and more than a dozen industry-specific online certifications.
Challenge: Team Lacked Modern Tools To Support Thousands Of Customers
HAI Group's online training division handles all support requests in-house for the nearly 25,000 users accessing their content.
No Central Ticketing System
The legacy system developed by their IT department nearly a decade ago lacked features that most modern ticketing systems provide:

⇒ They had no central repository to view, triage, monitor, or respond to tickets.

⇒ Their only support channels were email or phone.

⇒ Support team members could only respond to email support requests from their own individual inboxes.


"We did our best to try to track tickets," said Brian Altshuler, product manager at HAI Group. "We spent years trying to figure out a shared inbox, but it just never worked."
No Connection To Marketing Data
The support team also lacked insights into their customers.
Before they could adequately respond to a customer, each team member had to add another step in their process by building out a more complete profile to identify basic information like company name, phone number, or email address.
No Automation
Over the years, the support team identified common customer requests and grouped replies into approximately 30 separate templates.
Each team member would then use macros on their computers to compose an email response with the content of those documents before responding to the customer.
Solution: HubSpot's Service Hub Pro Provides Modern, Future-Thinking Capabilities
Following a successful Marketing Hub implementation in quarter 4 of 2021, representatives from HAI Group's online training division connected with ONEFIRE to discuss Service Hub's capabilities and view a Service Hub demo with HubSpot.
Their main goals were to:
⇒ Create a central repository for viewing, responding to, monitoring, and reporting on tickets.
⇒ Add additional channels for their customers to contact support, such as forms, bots, and live chat.

⇒ Develop more robust customer profiles by integrating marketing data—page visits, marketing emails, and more—with business and support data to better understand their customers.
Automate responses to common questions even more by storing disparate support responses with HubSpot's Templates feature to pull responses to common issues.
Automate reminders to customers that they still owe information about their issue.
Once HAI Group decided to move forward with Service Hub, ONEFIRE completed the initial onboarding process within 60 days.
Results: Integration and Automation Provide Better Support
Following the initial onboarding phase, Service Hub is now the online training division's central repository for most customer support.
Tickets Are Now Organized And Open To All Support Team Members
Nearly immediately, HAI Group's team was impressed with tickets and their ability to:

⇒ Visualize tickets.

⇒ Respond to customers directly within HubSpot instead of their individual email accounts.

⇒ Allow multiple team members to work on a single ticket because of all the data associated with the ticket record.


For example, escalated tickets often reach Eric Serrano, senior content strategist at HAI Group.

"(The first-tier support reps) capture everything in the ticket," he said. "I'm able to pick up where they left off."

He added that it's saved a tremendous amount of time to be able to refer back to notes captured over a ticket's lifecycle.
Integrated Marketing & Support
A customer in need of support may likely already be in the HubSpot CRM, so a support representative can view that customer's record to get a better understanding of who they are and how to interact with them.
Additionally, HubSpot can identify information missing from the customer's profile by looking at their email domain to automatically add publicly available information.
Automation Helps Increase Efficiency
HAI Group's support team can now pull common responses directly from HubSpot's Templates tool without the need to use macros or respond from their personal email inboxes.
They can use templates as a base from which to craft an individual response to a customer.
"It's super easy" to port content from separate documents into HubSpot's Templates tool, said Dan Segaline, senior customer success specialist at HAI Group.
This automation extends to reporting, as well, which is available to the team for the first time ever.
In just the two months following Service Hub's implementation, HAI Group's online training division has seen:
⇒ A 78% reduction in the average time to close a ticket, from nearly 4 days to just over 1 day
⇒ A 10% reduction in the average time spent working on a ticket
⇒ A 5% reduction in the average time for an agent to first respond to a ticket
Impact: HubSpot's Service Hub Improves Communication, And Saves Support Team Time And Effort
"We have seen a dramatic improvement in communication," in the two months since launching Service Hub, Altshuler said. "The system is so intuitive."
Segaline realized how much of a difference Service Hub made for their organization after members of their team took time off.
Typically, he would have to sift through hundreds of emails upon his return to determine how to follow up with support requests.
Because of the centralized HubSpot ticketing system, Segaline said he had "almost nothing to deal with" when he returned.
With HubSpot's Service Hub, HAI Group's online training customers have more ways to reach out to a more enabled support team than ever before.
Plus, the support team now has ways to automate previously manual, time-intensive functions, such as building out customer profiles and answering common questions.
"We are very happy with the system," Altshuler said. "It's been an enjoyable implementation."
Following the 60-day implementation, HAI Group planned on exploring additional support options, such as live chat and bots, to further help their customers.