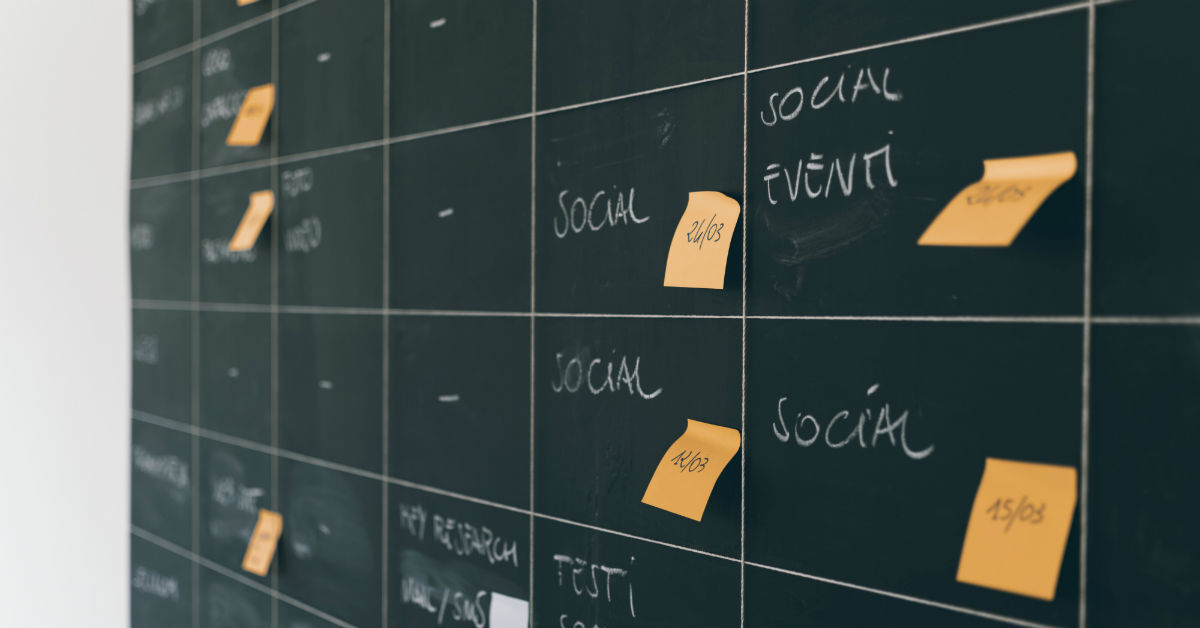 Organic social media posts aren't effective at driving website visitors or converting those visitors into leads for your business, according to our data.
Instead, we think your resources are best spent on a healthy mix of other digital marketing channels if your priorities are increasing visits and contacts.
1. Generate Content Optimized For Search
We've found that organic traffic (people that come to a website after performing a search) and direct traffic (people that come to a website by typing it in directly) are the top sources of visits to our client's websites.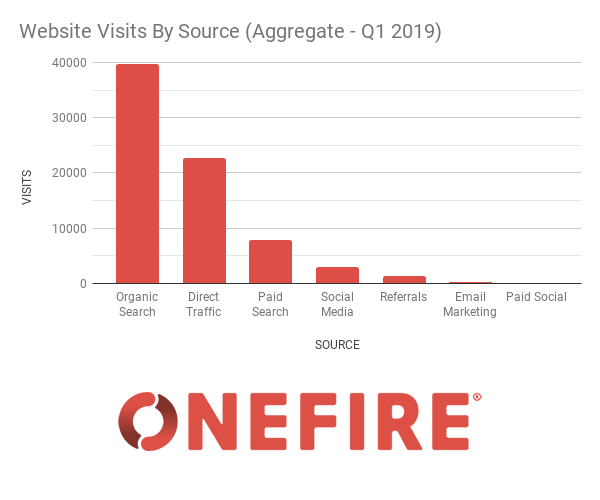 That's why the first recommendation we make for any client's long-term inbound marketing success is to start a blog and regularly populate it with content relevant to their audience's interests.
Blogs should be published regularly—not every day, necessarily, but waiting six months in between posts isn't recommended. After all, it's believed that Google rewards content frequency, among other things.
Blog posts should also include calls to action. CTAs send people to a relevant landing page that contains an offer in exchange for filling out a form. If people perceive the offer as valuable, they will give up some of their contact information to receive it. That's what converts visitors into leads. You'll start to build a database of contacts within your own systems, which is great since you can't export Facebook likes or Twitter followers.
If this process sounds familiar, it's the foundation of HubSpot's inbound marketing methodology.
2. Use Paid Search As A Fishing Net
Sometimes, clients come to us in a panic. The digital marketing they've done in-house or with another agency isn't working, and we're brought in as an emergency fix.
The good news is that we can help.
The news that's a little harder to accept is that while organic content (mentioned above) is tremendously valuable for generating website visitors and leads, it's not something that yields returns right away. Your website may not have the authority to deliver first-page Google results for your content for a while.
That's why we suggest seeding your organic content with paid search ads. In particular, use Google Ads (Google has a stranglehold on the search engine market).
Sponsored ads show up at the top of the search engine results before all of the organic results. Use these ads to target your ideal customer profiles and send them to a valuable landing page to capture their information so that you can continue nurturing them after they leave.
Like organic search, the goal here is to capture contact information for your database.
3. Use In-Person Events
Be social, but be social face-to-face instead of through a device.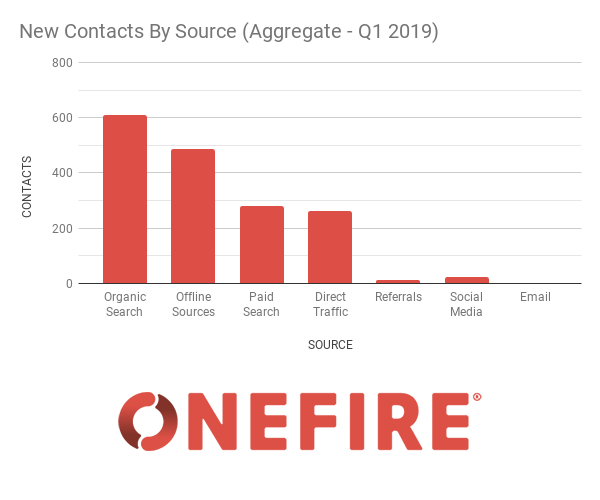 As our data demonstrates, "Offline Sources" is a great way to increase your number of contacts. Most likely, Offline Sources are events at which you meet people and they provide their contact information to you. Examples include:
Speaking at a Chamber of Commerce event: Your local chamber may provide access to a list of other chamber members, or just a list of attendees who attended that day. In either case, you may have permission to begin reaching out to those members afterward.
Giving out free prizes: One of our clients relies on giving out free prizes in exchange for contact information twice a week in their area and that strategy results in new contacts each month.
Attending a trade show: Often at trade shows, attendees have badges with barcodes on them that contain their contact information. After confirming their permission, make sure you scan their barcodes. All of that contact information goes into a database that you can export from a vendor and import into your system. Alternatively, bring a tablet or touch screen kiosk to your next show and invite attendees to easily enter their information on the spot.
These events are great because you meet more than just an email address or a Facebook like—you meet a real person who could potentially spend real money with your business.
4. Pay To Play On Social Media
As Facebook's algorithm changed in 2018, it put an emphasis more on personal connections than on brands.
That's because Facebook's organic reach is expected eventually to hit zero, meaning Facebook Page managers will have to pay to reach even the tiniest sliver of their audiences.
Approximately 63% of respondents to Buffer's State of Social survey said that paid social media advertising has been effective for their business, and approximately 65% plan to increase their social media advertising budget in 2019.
There are a number of ways you can get more out of Facebook's advertising, including:
If you're paying for an ad on any social platform, make sure what you're offering is something the audience can easily get to (such as an app download or a landing page). What's even better is if you send them to a landing page with a relevant offer so you can hopefully collect their contact information. That way, you won't have to rely on a social platform to reach out to them, and you can just use phone or email instead.
5. Email Your Incoming Leads
Whether you've acquired leads through your organic, paid, or offline content, the fact is you still have new leads coming in.
You can then use their contact information to follow up with them through email by sending them a content offer or asking to set up a meeting with them (if that's a relevant ask).
Good email marketing starts with valuable content, which is defined depending on who your customers are and what they value. Put yourself in your customers' shoes and ask, "Is this something I would want to receive?"
Email marketing should start with segmentation.
According to MailChimp, segmented emails have a:
14.31% higher open rate.
100.95% higher clickthrough rate.
9.3% fewer unsubscribes.
Further, HubSpot reports that 66% of people say they unsubscribe from emails because the email topics weren't aligned with their interests.
You've likely already been granted permission to communicate with people once they've filled out a form or met with you in person, so use that permission carefully.
One of the reasons email stands out from social media platforms is that it's more personal. When you send a tweet, you often don't think about sending it to one person. However, the ability to personalize emails helps the receiver think that you wrote it just for them.
For those who may groan at email after not seeing success, or not believing that success is possible, Robin Sloan is quoted describing email:
"Email is definitely not ideal, but it is: decentralized, reliable, and not going anywhere—and more and more, those feel like quasi-magical properties."
Now that we've established that just posting updates to social media isn't great for website visits and lead generation, we fortunately have a number of other digital marketing channels we can use to reach out to potential customers.
Whether it's paid search, email, or doing things the old fashioned way in person, think about the way your prospects come into your system. Then, find what's working and shift your focus toward that.